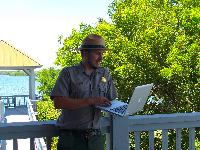 Do you have any questions about National Parks that need answering? Do you wonder what makes Biscayne so special? You can interview a Park Ranger via Skype to have your questions answered.

Rangers will present an introduction to the park and its resources, and then answer some questions from students in your classroom. Presentations last 30-45 minutes. To submit a registration form for a program click here
Please contact the Education Program for more information (305) 230-7275 x 08 or
e-mail us.