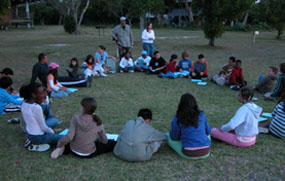 Planning a field trip to Biscayne National Park is easy. First you may want to explore your options to find the program that best meets your goals: choose between an "Explorer" day, "Expedition" overnight or classroom program. All program options require a committment from teachers, students and chaperones to learning, as well as a respect for our national treasures. The size and grade level of your group will also be a determining factor in deciding which program is best suited for your needs.
Convoy Point has a boardwalk for wildlife viewing, picnic tables suitable for lunch and bathroom facilities. It is also the location of the Dante Fascell Visitor Center, where you can find a touch table, educational videos, a museum, art exhibits, and park staff to make your visit complete.
You can combine program options and park facilities to fit your needs and time restraints. Once you have decided on an education program which meets your class objectives fill out the appropriate registration form. If you would like help tailoring your field trip call (305) 230-1144 x008 or e-mail us at "biscayne_education@nps.gov."
When planning your field trip remember to check the weather and prepare your students appropriately. Snacks and drinks are available, but limited. It is recommended that school groups bring their own lunch and refillable water bottles.