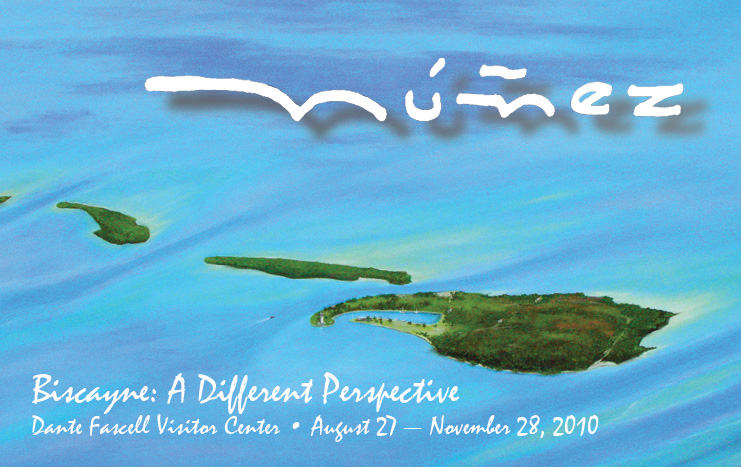 News Release Date:
August 23, 2010
Contact: Gary Bremen, 305-230-1144, x007
Biscayne: A Different Perspective is the next show at Biscayne National Park's Dante Fascell Visitor Center Gallery. The paintings by Homestead artist Luis Nuñez feature depictions of birds in flight, as well as aerial views inspired by the artist's own flights over the park. The show runs from Friday, August 27 through Sunday, November 28, 2010, with a "Meet the Artist" reception slated for Sunday, August 29 from 1-3 p.m. The reception will feature a talk by the artist, refreshments, and a celebration of the 94th birthday of the National Park Service. The Gallery, located at 9700 SW 328 Street, near Homestead, Florida, is open seven days a week from 9-5. Admission is free.
An amateur pilot as well as an artist, Nuñez has combined his two passions to create this unique show. "There is no feeling that can compare to the sense of inner peace and freedom that one gets while flying or while painting," Nuñez says. "I hope these paintings will give people the same sense of inner peace and freedom that I have been rewarded with."
A native of Cuba, Nuñez has lived in Florida since 1960. He is a retired engineer who discovered later in life his talent for painting, ultimately earning a BFA degree from Florida International University to complement his Electrical Engineering degree from the University of Miami. He was commissioned to create the Biscayne National Park ornament for the White House Christmas tree in 2007, and will be the featured artist for Hispanic Heritage Month at both the capitol rotunda and the governor's mansion in Tallahassee this October. Although he invites the opportunity to paint any landscape anywhere in the world, his heart is in Florida. His Biscayne Bay, Everglades, Big Cypress and Florida Keys paintings capture the light, colors and mood of this beautiful and unique part of the world.
Biscayne: A Different Perspective is part of the park's Community Artists Program, started in 1997 as an outlet for the works of both established and emerging artists who are inspired by the beauty of Biscayne National Park. The program is made possible by the South Florida National Parks Trust through the generosity of The First National Bank of South Florida, Sedano's Supermarkets and the Miami-Dade County Division of Cultural Affairs and the Cultural Affairs Council, the Miami-Dade County Mayor and Board of County Commissioners.
For more details about the exhibit, contact park ranger Gary Bremen at 305-230-1144, x007. For regular updates from the park, follow us on Twitter at www.twitter.com/BiscayneNPS.