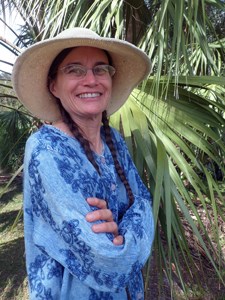 10:00-11:00
Presenter: Carol Mahler
Writer, Historian & Folklore Performer
Guy LaBree, barefoot artist of the Florida Seminoles, paints Big Cypress. Carol Mahler will talk about how Guy LaBree has portrayed the Big Cypress in his award-winning paintings of Seminole legend, culture, and history as well as Florida wildlife. Two of his images represent the Seminole Tribe of Florida in the Smithsonian National Museum of the American Indian. LaBree focuses on the Seminole point of view, one that considers the Big Cypress as a "traditional home and ally of the Seminoles." Although his source of inspiration varies, his choices of details emerge from a lifetime of observing Florida nature, reading historical accounts, and talking with experts. He also corroborates these facts with his Seminole friends to create truly authentic scenes of the Big Cypress.
Also
Carol will provide a booksigning -Guy LaBree, Barefoot Artist of the Florida Seminoles. Carol will also provide a book reading/story telling at the festival campfire corner.
---