Festival Presentations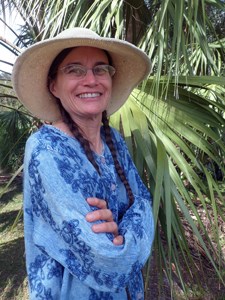 10:00-11:00
Presenter: Carol Mahler
Writer, Historian & Folklore Performer
Guy LaBree, barefoot artist of the Florida Seminoles, paints Big Cypress. Carol Mahler will talk about how Guy LaBree has portrayed the Big Cypress in his award-winning paintings of Seminole legend, culture, and history as well as Florida wildlife. Two of his images represent the Seminole Tribe of Florida in the Smithsonian National Museum of the American Indian. LaBree focuses on the Seminole point of view, one that considers the Big Cypress as a "traditional home and ally of the Seminoles." Although his source of inspiration varies, his choices of details emerge from a lifetime of observing Florida nature, reading historical accounts, and talking with experts. He also corroborates these facts with his Seminole friends to create truly authentic scenes of the Big Cypress.
Also
Carol will provide a booksigning -Guy LaBree, Barefoot Artist of the Florida Seminoles. Carol will also provide a book reading/story telling at the festival campfire corner.
---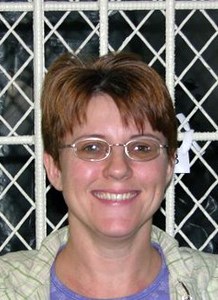 11:00-12:00
Presenters: Nancy Russell
Museum Curator, South Florida Collections Management Center
and
Bonnie Ciolino
Archivist, South Florida Collections Management Center
Staff from the South Florida Collections Management Center will provide a 60-minute overview of the role oral histories can play in preserving local cultural history, sharing family stories, connecting people to places, and managing cultural and natural resources in the National Park Service. Using examples from the preserve's oral history collection, the presenters will provide an introduction to oral histories, share some of the "swamp stories" already collected, encourage others to share their knowledge and local history, and provide information that visitors can use to gather and preserve their own family histories.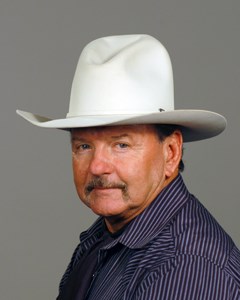 12:00-1:00
Presenter: Ron Bergeron
Florida Fish & Wildlife Conservation Commission
As a proud eighth-generation Floridian, saving the Everglades and protecting wildlife have been Mr. Bergeron's lifelong passions. He has met with public officials regularly to help prioritize Everglades projects to stop irreversible damage to the great wetland.
With a background as an engineering contractor Mr. Bergeron has worked with the US Army Corps of Engineers and the South Florida Water Management District with value engineering and analyzing cost versus the benefits of restoration projects for the past 10 years.
Ron Bergeron will speak about his passion for protecting South Florida wildlife, preserving Big Cypress and sharing his love of the outdoors with the next generation of young Floridians.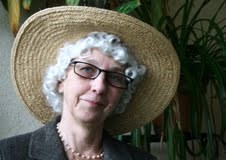 1:00-2:00
Presenter: Janina Birtolo
College Professor, Writer, Actor
Janina will present a 60-minute One woman show portraying, A VOICE FOR THE EVERGLADES about Marjory Stoneman Douglas, author of the pivotal book, The Everglades: River of Grass, and an environmentalist who continues to inspire.
As the title of the play suggests, Douglas helped spread the message of how special the Everglades is and how vital to all of life in South Florida. Twenty years after the establishment of Everglades National Park – in the same year her book was published – she was asked again to come to the region's aid to help defeat plans to build a jetport in the fragile area and will emphasize the history of Big Cypress National Preserve and the birthday of the Preserve.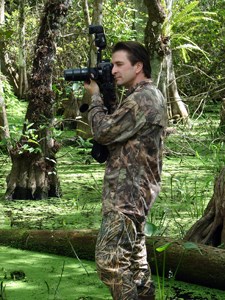 2:00-3:30
Presenter: Frank Berna
Photographer
Frank will provide a 90-minute program on photographing Big Cypress. "There is probably no more challenging subject for cameras than wildlife. This is why it is so universally popular. Whether it is panthers or pelicans, alligators or alligator lilies, the quest for the perfect shot is endless. The quarry is invariably erratic, endangered and elusive. However, the pursuit of this precious image is what makes it such fun, so rewarding."
Learn the tricks and tips to make photos that you'll be proud to show.
Frank Berna has over 25 years of experience in various aspects of photography, 15 of which as a South Florida resident. He began his career in Pittsburgh, Pennsylvania as a commercial and fashion photographer, and as the co-publisher of a fashion/lifestyle magazine, Pittsburgh Style. Frank owns and operates the Photographic Institute of Naples, an organization dedicated to the advancement of photographic education. He has given numerous presentations on digital photography to many civic and computer clubs in Southwest Florida, and has been interviewed by local television stations and the Naples Daily News.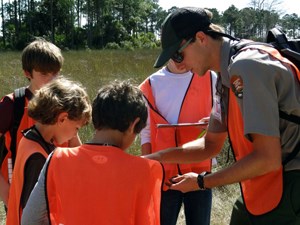 7:00 pm
Presenters: Luke Gommermann & Rader Lane
National Park Rangers, Big Cypress National Preserve
Stories in the Stars: Linking the Night Sky to our Heritage
Come enjoy the night sky of Big Cypress National Preserve! On December 7, park rangers will first lead a free interpretive presentation at the Big Cypress Swamp Welcome Center discussing our cultural connections with objects in the night sky.
Following the presentation, rangers will lead constellation tours (weather permitting), and one or more telescopes will be available (weather permitting) for viewing stars, star clusters, planets, nebulae, and galaxies.
Please note that if weather prevents night sky viewing, the interpretive presentation will be conducted indoors and will not be cancelled.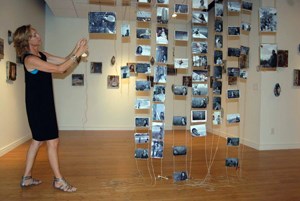 Presenter: Deb Mitchell
Mixed Medium Artist & Curator
Born in Canada, Deb became a Miami Beach resident and has been a professional award-winning artist for over 20 years. A former Big Cypress Artist-In-Residence, Deb has spent the last eight years exploring the mysterious landscape of the national preserve and the surrounding Everglades region.
Her Backcountry, Exploring Contemporary Glades Culture exhibition is comprised of 10 mixed media vignettes, which provide unique insight into humans and their changing relationship with this ancient landscape.

This festival provides a venue for individuals and groups with a deep connection to the Big Cypress Swamp an opportunity to share stories of the past and hopes for the future related to this special place. The views and opinions of participants are not necessarily those of the National Park Service.
Last updated: April 14, 2015