Florida National Scenic Trail
Florida National Scenic Trail stretches 1,400 miles across Florida, from Gulf Islands National Seashore to Big Cypress National Preserve. The southernmost sections of the trail lie within the national preserve.
The national preserve portion of the trail can be logically divided into two sections moving in a southerly direction: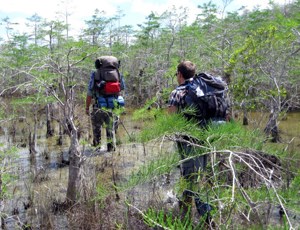 NATIONAL PRESERVE'S NORTHERN BOUNDARY TO INTERSTATE 75
Approximately 8 miles one way
This section of trail follows Nobles Grade, an old oil road, through hardwood, prairie and pinelands. Beyond the national preserve boundary the trail is limited to a small number of hikers who are members of the Florida Trail Association per month traveling through the Seminole Reservation.
Please contact the Florida Trail Association for more information.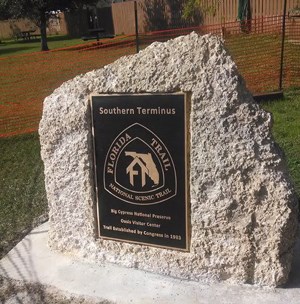 INTERSTATE 75 TO HIGHWAY 41
Approximately 28 miles one way
Trailheads are located on Highway 41 near Oasis Visitor Center and on Interstate 75 (Alligator Alley) at the rest area at Mile Marker 63.
The trail passes through a variety of habitat types including hardwood hammocks, pinelands, prairies and cypress. Some high ground is available for camping at 13-mile camp. DURING THE DRY SEASON, THERE IS NO WATER AVAILABLE ON THIS ENTIRE ROUTE. YOU MUST CARRY ALL WATER.
This walk is not for the casual hiker. It is not heavily marked and vegetation grows over it during the rainy season when there is little foot traffic.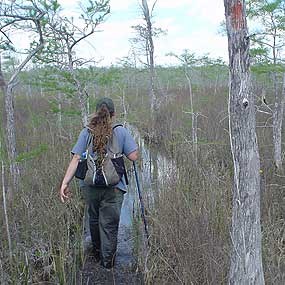 HIGHWAY 41 TO LOOP ROAD
(FORMERLY PART OF FLORIDA NATIONAL SCENIC TRAIL)
Approximately 6.5 miles one way
The trail begins (or ends) at the Loop Road approximately 13 miles from its east end on Highway 41. The other end is across the highway from the Oasis Visitor Center.
The trail winds through dwarf cypress and prairies and crosses through Robert's Lake Strand. It is well marked and easy to moderate in the winter season, but knee to waist deep in water during the rainy season. This part of the trail is an easy and well-marked way to take a short walk into the Preserve to get that "out in the middle of nowhere" feeling. Sometimes the only sounds you hear are wind and the occasional jet flying over.
Please refer to maps on the Florida Trail Association webpage (click here), or call the visitor center for detailed directions.
Last updated: April 14, 2015