Backcountry Permits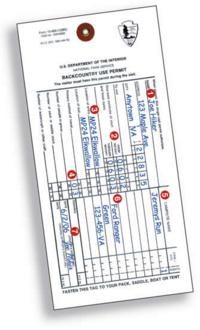 Why Do I Need To Fill Out a Backcountry Permit?
Backcountry permits are a safety measure for visitors, and a useful way of monitoring visitor use within the Preserve. Permits are required for every hiker, biker, off-road vehicle, or watercraft entering the backcountry. This applies to both day use and overnight activities.
Permits are free and can be filled out on-line and printed. Additionally, they are located at every backcountry trailhead and you can get them at the visitor centers. The permits take only a few minutes to complete.
If filling out a permit on-line and printing from home, here's what you do-
Open the backcountry permit file by clicking here.
Fill out all mandatory boxes (those that are highlighted with red) on top permit, inserting text or choosing from the drop-down menus. The second permit on the page will automatically fill the same data from the first permit.
Print out two copies of the page, so you have four identical copies. Cut each page in half, separating each identical permit.
Distribute copies as follows: One copy permit box at access point; One copy on dashboard of vehicle; Two copies in plastic bag with you as you travel in backcountry.
Things to Remember
The printed permit is not waterproof! Make sure you put the permit in a plastic bag when taking it into the backcountry with you.
This permit is specific to Big Cypress, so don't use it at Everglades National Park.
If you hold the mouse over the field as you are filling out the form, without clicking, a "hint" will be displayed to assist you in completing the information (note that there is a specific line for "cell phone #").
If filling out a permit from an access point or visitor center, review and print instructions by clicking here. It will make the process easier and provide better information on backcountry use to the National Park Service.
---
Backcountry permits provide the National Park Service with vital visitor use statistics and use patterns. The time you take to fill out the permit will provide the Preserve with better user information.
The ability of the Preserve to manage for a satisfying, safe visitor experience depends on how much the Preserve knows about the use of an area. The data collected from backcountry permits provides information which the Preserve uses for management decisions.
Last updated: December 3, 2020