Artist Exhibitions
Big Cypress National Preserve has long been a haven for artists of all mediums, and many artists have played a role--directly, or indirectly--in the promotion and protection of Big Cypress.
Please click here to learn more about the Artist-In-Residence program.
Look below to see whose art is currently on display at our visitor center auditoriums.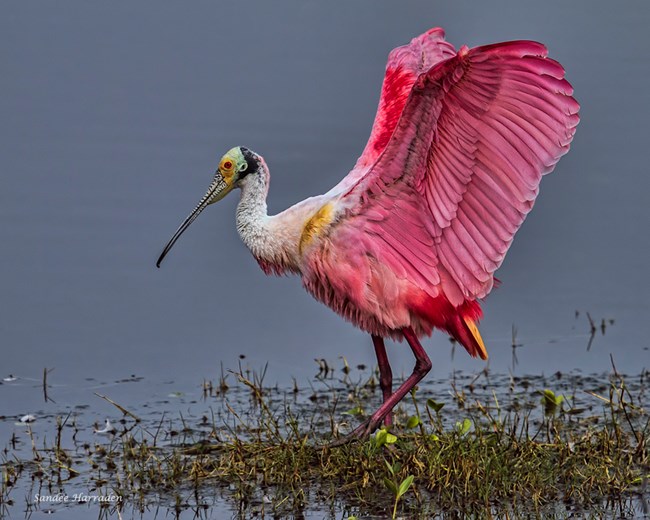 On Display Now!
December 20, 2016 through March 25, 2017

Photographic Exhibit"Journey Across The Greater Everglades"
Sandee Harraden, a local wildlife photographer and digital artist, will have a new solo photographic exhibit at the Big Cypress Swamp Welcome Center and Oasis Visitor Center in Ochopee, Florida. A nationally recognized photographer, published in the National Audubon and the National Wildlife Federation literature. She has spent the last 26 years exploring the greater Everglades to photograph wildlife behavior, specifically birds in flight. She finds inspiration in the swamps and wetlands across Southern Florida to creatively capture exceptional moments through her lens highlighting nature's astonishing beauty. Opening reception is January 14, 2017 from 1 to 3 pm at the Big Cypress Swamp Welcome Center. Exhibit runs from December 20, 2016 through March 25, 2017 at both locations.Free admission. For more information please call 239-695-4758. Purchases of images may be made at the Ivey House Gallery in Everglades City or from the artist. Contact the artist directly via email SJHarraden@aol.com and visit her web site www.SandeeHarraden.com.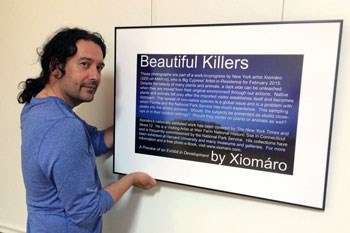 Past Exhibits
"BEAUTIFUL KILLERS"
Artist: Xiomáro
Medium: Photography
When: February 19-27, 2015
"Despite the beauty of many plants and animals, a dark side can be unleashed when they removed from their original environment through our actions. Native plants and animals fall prey after the imported visitor establishes itself and becomes dominant. The spread of non-native species is a global issue and is problem with which Florida and the National Park Service has much experience.
This sampling peeks into the artistic process: Should the subjects be presented as studio close-ups or in their outdoor settings? Should they center on plants or animals as well?"
Xiomáro's residency at Big Cypress was February 2-27, 2015.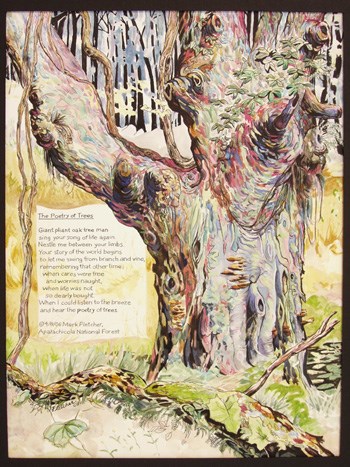 "FLETCHER SKETCHES BIG CYPRESS"
Artist: Mark Fletcher
Medium: Ink/Watercolor Painting
When: November 1 through Janaury 31, 2015
Mark's residency at Big Cypress was December 22 through January 3, 2014.
"My method is to sketch and paint detailed observations from life. I complete some works entirely on site, relating the nature of the park directly in my work. In the studio, I recreate a particular site's impressions in more time consuming media. My art tends to raise public awareness and appreciation for nature in the United States.
When I show my work in galleries or museums, I encourage people to go to the places I have been. By visiting our parks, people are revitalized and will support plants and animals and their natural settings. These days our world is increasingly at risk, but America's national parks inspire folks to protect our ntaural resources."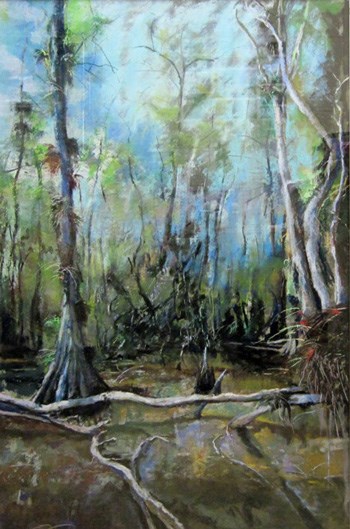 "ANOTHER PATH"
Artist: Tom Weinkle
Medium: Pastels
When: August 1 through October 31, 2014
Tom served as an Artist-In-Residence at Big Cypress National Preserve for five weeks, in 2012.
Another Path represents the artist's continuing effort to call attention to the unexpected beauty of the Preserve found in plain sight and just off the beaten path.
Speaking about his the Preserve, Tom explains "My exploration of the Big Cypress then and now has been made through a series of hikes that are 'scissor-cuts' into a 700,000 plus acre bolt of natural fabric. The play of light, intermingling of patterns, colors, and juxtapositions are surprising and inspiring. There is so much to see and paint, it's difficult to imagine one running out of subject matter to create with."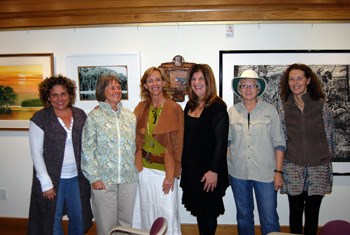 "VOICES OF BIG CYPRESS"
Artist: Various Artists
Medium: Various Mediums
When: May 3 through July 31, 2014
A selection of captivating art by gifted artists who previously served as Big Cypress Artists-In-Residence.
Big Cypress is an inspirational place, full of wonder and beauty. Come see works of art from a selection of talented artists who were moved while at the national preserve.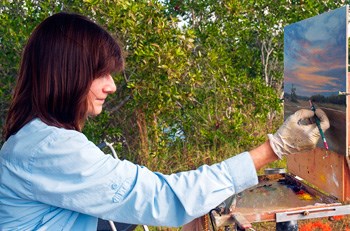 "THE LANDSCAPES OF BIG CYPRESS"
Artist: Linda Apriletti
Medium: Oil
When: February 3 through April 30, 2014
A Miami native, Linda served as an Artist-In-Residence at Big Cypress National Preserve, in December, 2012. For three weeks, Linda immersed herself in the resource, drawing inspiration from her surroundings.
"My goal as an artist is to communicate the uncommon beauty found in nature. I believe the best way to convey the authentic environment and the atmosphere of a moment in a painting is to paint it from life."
VISITOR CENTER AUDITORIUMS
---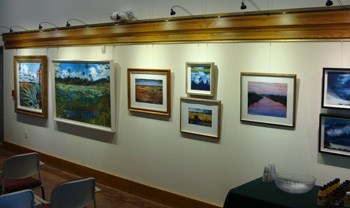 Auditoriums at both the Oasis Visitor Center and Big Cypress Swamp Welcome Center regularly display artist's work through a variety of mediums. These facilities provide a space where contemporary artists, inspired by the beauty of Big Cypress National Preserve and South Florida, can showcase their work.
Past shows have included color and black-and-white photography, oil, acrylic, pastel and watercolor paintings, drawings, fiber, ceramics, collage and sculpture.
Both reservable auditoriums are open daily, from 9:00 to 4:30 pm. Please click here for more information about the national preserve's visitor centers.
Last updated: January 3, 2017