2015 Swamp Heritage Festival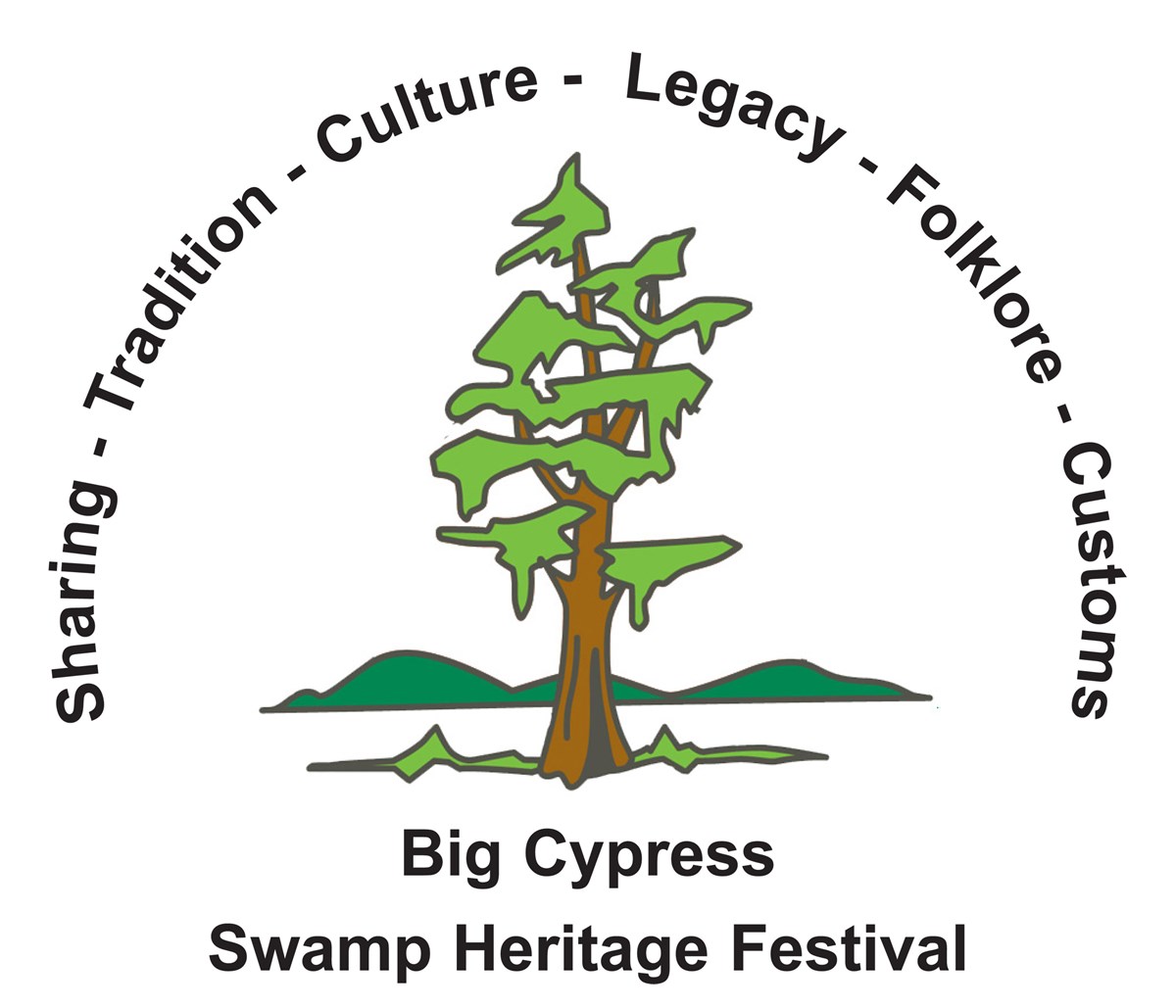 Mark your calendars! Join us on December 5, 2015, from 10:30 to 4:00 pm, at the Big Cypress Swamp Welcome Center as we celebrate the history and culture of South Florida for the FIFTH annual Swamp Heritage Festival!
Learn about the history of this rugged, yet beautiful environment through park rangers, volunteers, local experts and residents that will share their love of the swamp through programs, activities, and thought-provoking presentations.
This FREE family-friendly event shines a spotlight upon the inhabitants of early South Florida, whose rugged strength and pioneering spirit contributed to the shaping of today's unique and diverse culture. Through living history demonstrations, informative presentations, and exhibits everyone can learn what daily life was like in such a remote, and at times, inhospitable place. These unique chapters in American history add to the rich and colorful tableau that comprises our shared past and present.
What to expect

Auditorium Presentations
11:30 a.m. to 12:30 p.m.
New York Times bestselling author and Florida native Carl Hiaasen discusses the influence that Florida's cultural diversity has had on the characters in his novels, and why he often focuses on environmental topics.
1:00 p.m. to 2:00 p.m.
A representative from the Seminole Tribe of Florida's Ah-Tah-Thi-Ki Museum will share insight on the Big Cypress from the Seminole perspective.
2:00 p.m. to 3:00 p.m.
Former Big Cypress Artist in Residence (2011/12) Patricia Cummins will discuss her recent installation Big Work at Big Cypress. Patricia will also relate her experiences as an artist in residence in other national park areas across the country.
3:00 p.m. to 4:00 p.m.
In recognition of the 100th Anniversary of the National Park Service celebrated photographer Clyde Butcher shares his experiences exploring and photographing the natural wonders of the Big Cypress and other national park areas across the United States.
8:00 p.m. to 9:30 p.m.
Join Big Cypress staff and our partner astronomical societies for the first night sky program of the season.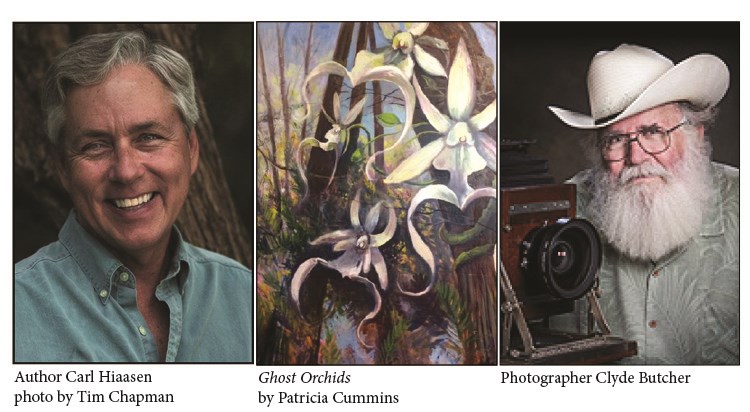 Campfire Corner Talks
11:30 a.m. to 12:00 noon
Local author Marya Repko will read from her new book Women in the Glades
12:00 noon to 12:30 p.m.
Avid outdoorsman Lynwood Scott shares stories of growing up in the Glades and some of his swamp buggy adventures.
12:30 p.m. to 12:45 p.m.
Big Cypress National Preserve's new superintendent, Tammy Whittington, shares a few words for the official welcome to this year's festival.
1:30 p.m. to 2:00 p.m.
Moving Forward to Save Monroe Station. Bob DeGross, Big Cypress National Preserve's Chief of Interpretation, provides insight on the structure and the next steps to stabilize and restore the building.
2:00 p.m. to 2:30 p.m.
Ever been to the swamp buggy races? Join this program to hear from the 2015 Swamp Buggy Queen & her court about what a swamp buggy is, history of swamp buggy races, and how they became interested in becoming the Swamp Buggy Queen and earning the related scholarships.
2:30 p.m. to 3:00 p.m.
The Curious Culture of Florida Crackers: Stories of pioneers in the Big Cypress backwoods. Join Rick Anderson, retired NPS employee, as he tells stories about growing up in the wilds of south Florida along Loop Road.
3:00 p.m. to 3:30 p.m.
Learn more about the National Park Service's South Florida Collections Management Center with Bonnie Ciolino, Archivist and Penolope DelBene, Chief of Cultural Resources, Everglades National Park. The two will be discussing the material culture that Seminole War army infantry soldier would have used during enlistment; and some of the future efforts the NPS will be undertaking in locating related sites within Everglades National Park.

Music
Marco Island, Florida's original songwriter and entertainer J Robert is a multi-generational Floridian who entertains with fiddle and guitar; celebrates land preservation and world humanity efforts with song and story. Raiford Starke has played festivals in Europe and Oklahoma and has sat around the campfire picking with some of music's greats. Touring a personal circuit around the big lake and along the fringes of the Everglades, his career is off the grid.
Food
Made available by Camellia Street Grill, an Everglades City original.
Demonstrations and Exhibitors

A variety of demonstrator's and exhibitor's will be set up throughout the day. Discover more about the Miccosukee and Seminole; public land agencies and partners; organizations and eco-tour operators – all connected to the Big Cypress Swamp.
Traditional Miccosukee Alligator Demonstration
Near the Food and Music Tent
11:45 a.m. to 12:30 p.m.
Discover how the alligator plays an important role in the Miccosukee culture today and in the past.
This festival provides a venue for individuals and groups with a deep connection to the Big Cypress Swamp an opportunity to share stories of the past and hopes for the future related to this special place. The views and opinions of participants are not necessarily those of the National Park Service.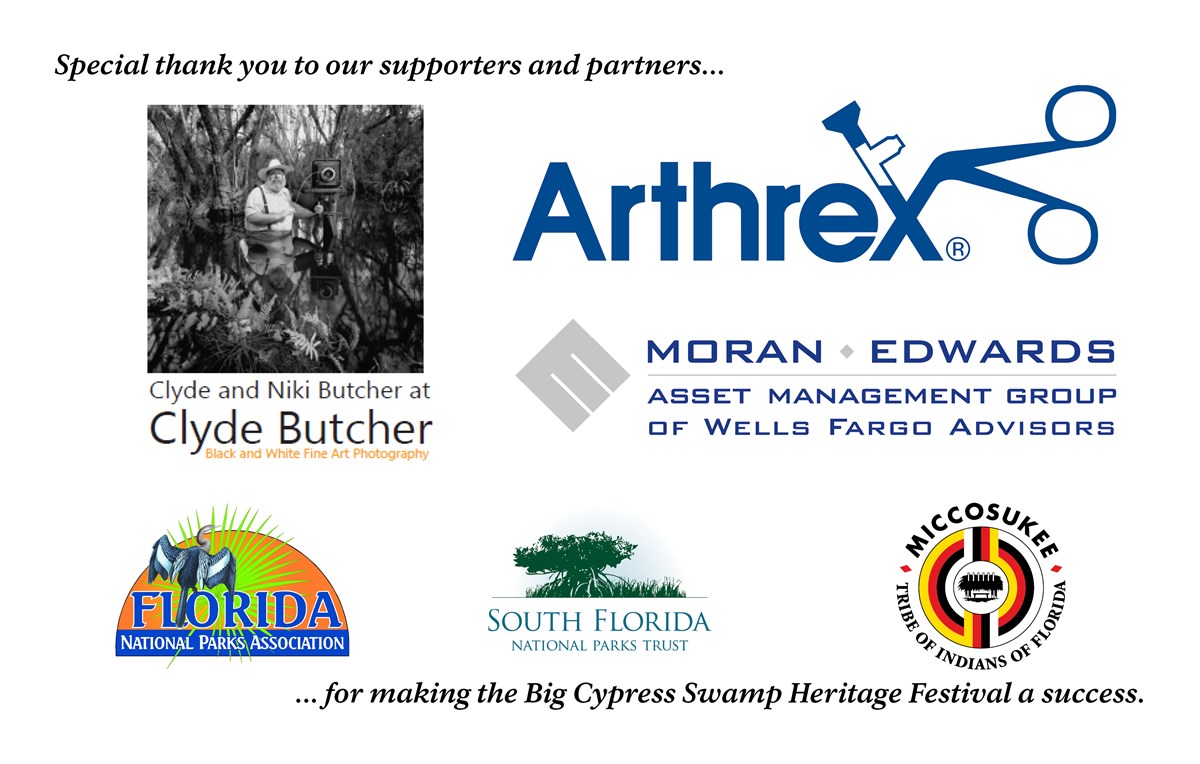 For pictures of past Big Cypress Swamp Heritage Festivals click here.
Last updated: September 7, 2016