Date:
September 9, 2008
Contact:
Bob DeGross
, 239-695-1107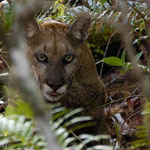 Many people are surprised to learn that the Florida panther is one of the most endangered mammals in the world. Given the rapid pace of residential growth on private lands in south Florida, the panther's habitat is now limited to the areas of Big Cypress National Preserve, Fakahatchee Strand Preserve State Park and the Florida Panther Wildlife Refuge. As its habitat shrinks, the panther is also threatened by vehicles on the roadways. Traffic on key highways that cut through or run along these protected lands is a major source of mortality for the panthers.

This summer, Krista Sherwood, a 2008 Transportation Scholar, is joining the effort to protect the panther's habitat by advising the ongoing efforts at Big Cypress National Preserve to construct new wildlife crossings that provide the panthers with safe access. Krista's work includes monitoring and assisting in the design and placement of these crossing structures. She will also help determine appropriate locations for additional structures and fencing on a regional scale, taking into account the greater transportation network surrounding Big Cypress.

Krista is just one of the five transportation professionals working in parks across the country this year to explore alternative modes of park transportation. A partnership between the National Park Foundation and the National Park Service, with funding from the Ford Motor Company, Proud Partner of America's National Parks, the Ford Transportation Scholars Program enlists experts in the field to consider ways to resolve some of the most significant transportation challenges in our national parks.

To date, scholars have considered challenges in more than 30 parks, including traffic congestion on the Going to the Sun Road in Glacier National Park; reduced ridership on the Cuyahoga National Park railroad; and limited transportation routes in Cape Hatteras National Seashore. In addition to the scholar program, Ford supports a wide variety of transportation solutions in the national park system, including the restoration of a historic fleet of red touring buses in Glacier National Park and the donation of hundreds of fuel-efficient hybrid vehicles to parks across the country.
From the National Park Foundations GoParks Newsletter, JULY 2008 EDITION, VOLUME 6, ISSUE 7