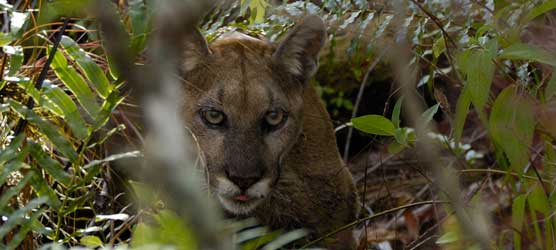 News Release Date:
December 6, 2007
Contact: Layne Hamilton, FWS, 239-353-8442, ext. 227
Contact: Dani Moschella, FWC, 561-625-5122
Contact: Bob DeGross, NPS, 239-695-1107
The U.S. Fish and Wildlife Service (USFWS) today released the 2007 Interagency Florida Panther Response Team Report that summarizes human-panther interactions investigated by the Interagency Florida Panther Response Team between December 2003 and June 2007. The team includes biologists, law enforcement officers and other agency representatives from the USFWS, National Park Service and the Florida Fish and Wildlife Conservation Commission (FWC). As more humans move into panther habitat, the potential for human-panther interactions increases. Therefore, the team developed a plan to promote public safety and panther conservation.
Reported interactions included panther sightings and encounters, including one involving a panther that was removed from the wild because it was deemed a potential threat, and multiple domestic animal depredations.
Additionally, the report summarizes outreach and educational efforts completed by the team, as well the work of partnering organizations and local government agencies, which provide the public with the information and tools needed to live and recreate in panther habitat. To view the report, visit http://www.fws.gov/verobeach or http://myfwc.com/panther/.