Ranger-led Activity Schedule 2013-2014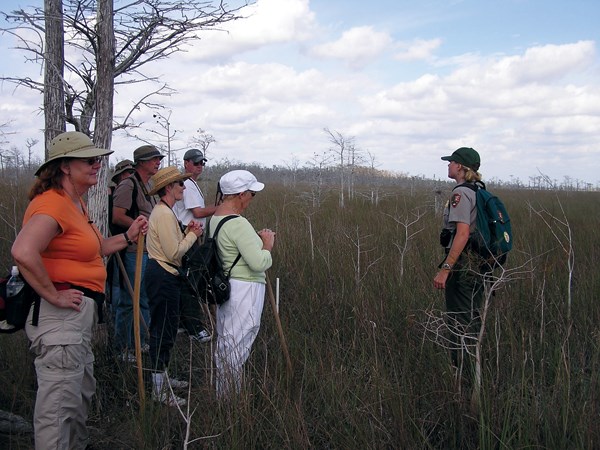 Date:
November 14, 2013
Contact:
Bob DeGross, 239-695-1107
Get out and explore!
The schedule for winter ranger-led activities at Big Cypress National Preserve has been released. Enhance your understanding and enjoyment of the national preserve by taking part in a swamp-walk, talk, guided canoe trip, and more. Now is a great time to get outside and explore the national preserve and see its wildlife. This season's ranger-led activities will run from November 23 through April 13.
Ranger-led programs are offered at various locations and cover a wide range of topics, including: plants, animals, human history, and more. All ranger-led programs are free. Check the schedule posted at visitor centers and bulletin boards throughout Big Cypress for times, places, and subject.
Visitors are reminded to be prepared when participating in ranger-led activities, especially guided hikes. Sturdy foot wear, such as closed-toed shoes is essential for hiking in the swamp. Bring plenty of water and food for the length of the hike. Weather can change quickly, so be prepared by bringing rain gear. Children are welcome at all interpretive programs, but must be accompanied by an adult.
To make reservations, please call 239-695-4758. Reservations are accepted up to 14 days in advance of the activity date.
For more information, click here.
Last updated: April 14, 2015