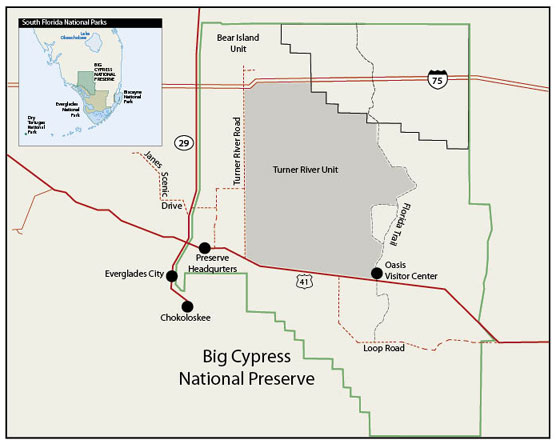 News Release Date:
August 29, 2007
Contact: Bob DeGross, 239-695-1107
Big Cypress National Preserve is moving forward with implementation of the ORV Plan through on-going designation of primary and secondary ORV trails within the Turner River Unit.
As part of this process you are invited to attend a scoping meeting at the Preserve Headquarters (located on U.S. 41 four miles east of S.R. 29) on 9/13/2007 between the hours of 5:00 p.m. and 7:30 p.m.
As a point of reference, ORV trails are designated via criteria outlined in the ORV Management Plan, including: designate trails to specific destinations; avoid or minimize user conflicts; and avoid or minimize safety hazards. We invite your input on ORV access within the Turner River Unit.
The Turner River Unit is located east of Turner River Road, west of the Florida Trail, north of U.S. 41 and south of I-75 and the Addition Lands (refer to map above).
If you have any questions related to this announcement please contact Bob DeGross at 239-695-1107 or bob_degross@nps.gov.