Date:
February 9, 2007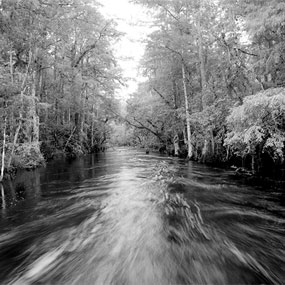 Big Cypress National Preserve will be displaying work by Miami artist Rick Cruz during the month of February. The work will be displayed at the Oasis Visitor Center located along the Tamiami Trail (U. S. 41) midway between Miami and Naples. Hours for the visitor center are from 9:00 a.m. to 4:30 p.m.
There will be a meet the artist reception on Sunday, February 11 and 25, between 11:00 a.m. and 1:30 p.m. at the Oasis Visitor Center. Following the reception there will be a Ranger-led Swamp Walk into the Preserve. Please call the Oasis Visitor Center in advance (239-695-1201) for more information on the reception and to reserve space for the Swamp Walk.
Cruz's photography highlights several areas of the Preserve, other natural areas of South Florida and the unique plant life found here. His love for the wild areas of the region developed while traveling the Tamiami Trail between Miami and Sarasota. Cruz's camera became his third eye. Over time he has developed a keen sense and a natural instinct as a photographer.
"I am intrigued by Florida's unique landscape and natural beauty." Rick states, "Within the Everglades and Big Cypress regions we are able to witness one of Nature's most basic survival instincts. She is maintaining a fragile balance of a unique ecosystem; the only wetland of its kind on our planet."
Mr. Cruz has become and internationally renowned photographer with his work exhibited in museums and galleries throughout the United States and Europe.