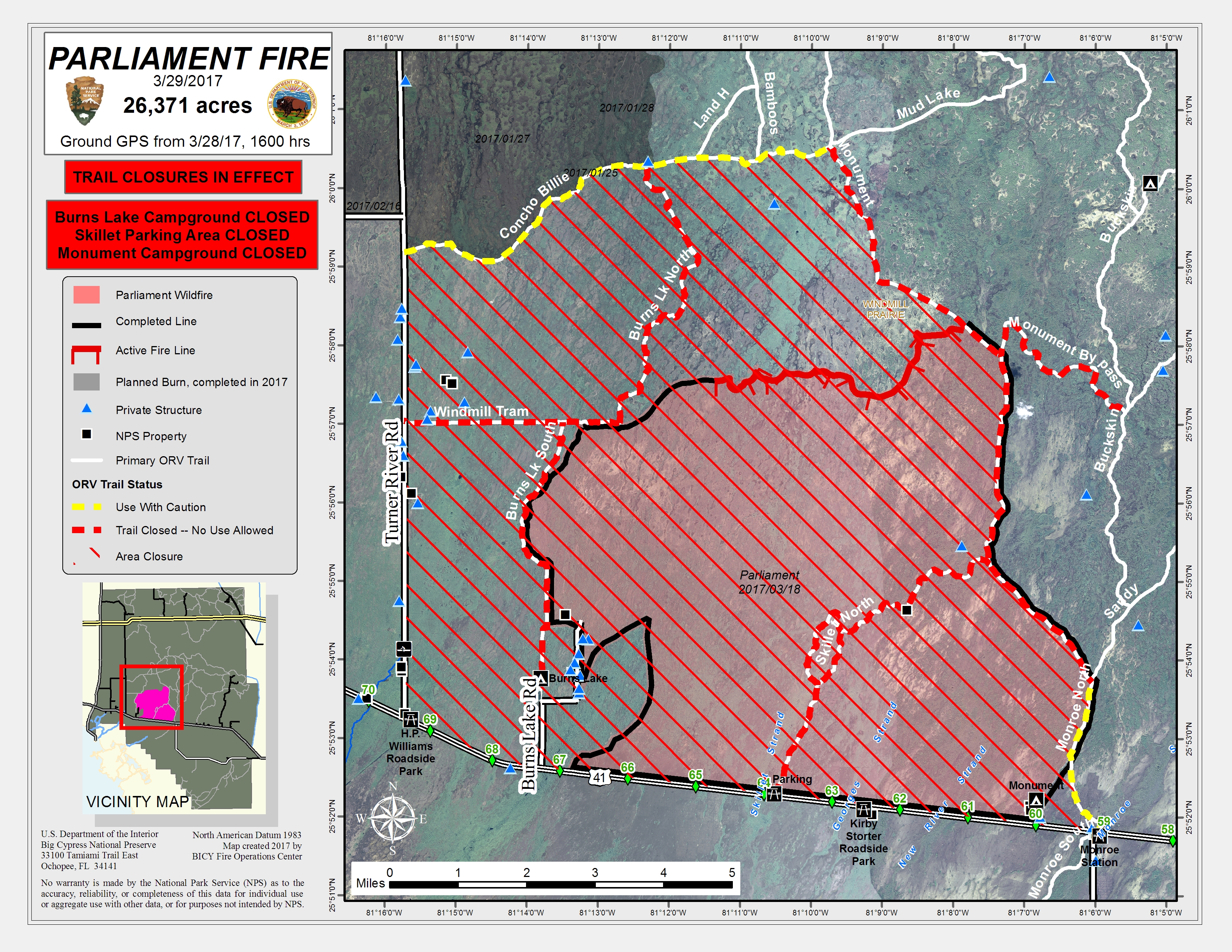 News Release Date:
March 29, 2017
Contact: Jennifer Thelen, 239-695-1128
Firefighters continue to make good progress on the Parliament Fire and it is now 75% contained. Because of that progress, some personnel are being released and the Type 3 Incident Management Team, brought in to run the fire on March 21st, has turned control back to the local fire resources. "We want to thank the Big Cypress area community and all the local, state, federal and tribal resources that helped the team," said Incident Commander J. Thatcher. "We're happy to report that to date we've had no injuries to firefighters or the public and that no structures were lost," Thatcher added.  
Though fire activity as been minimal to moderate over the past few days, the fire is not "out" and flare-ups are still possible. And, because of the continuing dry weather, everyone is urged to be very careful with anything that can cause a fire. "Red flag" weather conditions are forecast in the area today, which means any fires have the potential for rapid growth and spread. Firefighters continue to work, on the ground and from the air, to secure the remaining unsecured portions of the Parliament Fire. They are also actively suppressing a smaller fire, named the "Little Cypress," which is burning in a remote area of the preserve, north of Interstate 75. A second small fire, the "Hotline Fire," is also still being monitored, though it is 85% contained.  
The Parliament Fire began March 18, 2017 and spread across 26,471 acres in the Big Cypress National Preserve (BICY). Monument Lake and Burns Lake Campgrounds, as well as some trails, remain closed, but both visitor centers and the majority of the preserve is open. For more information about fire and the BICY, visit us on the web at
www.nps.gov/BICY
. Please like us on Facebook for updates
www.facebook.com/BigCypressNPS/
.