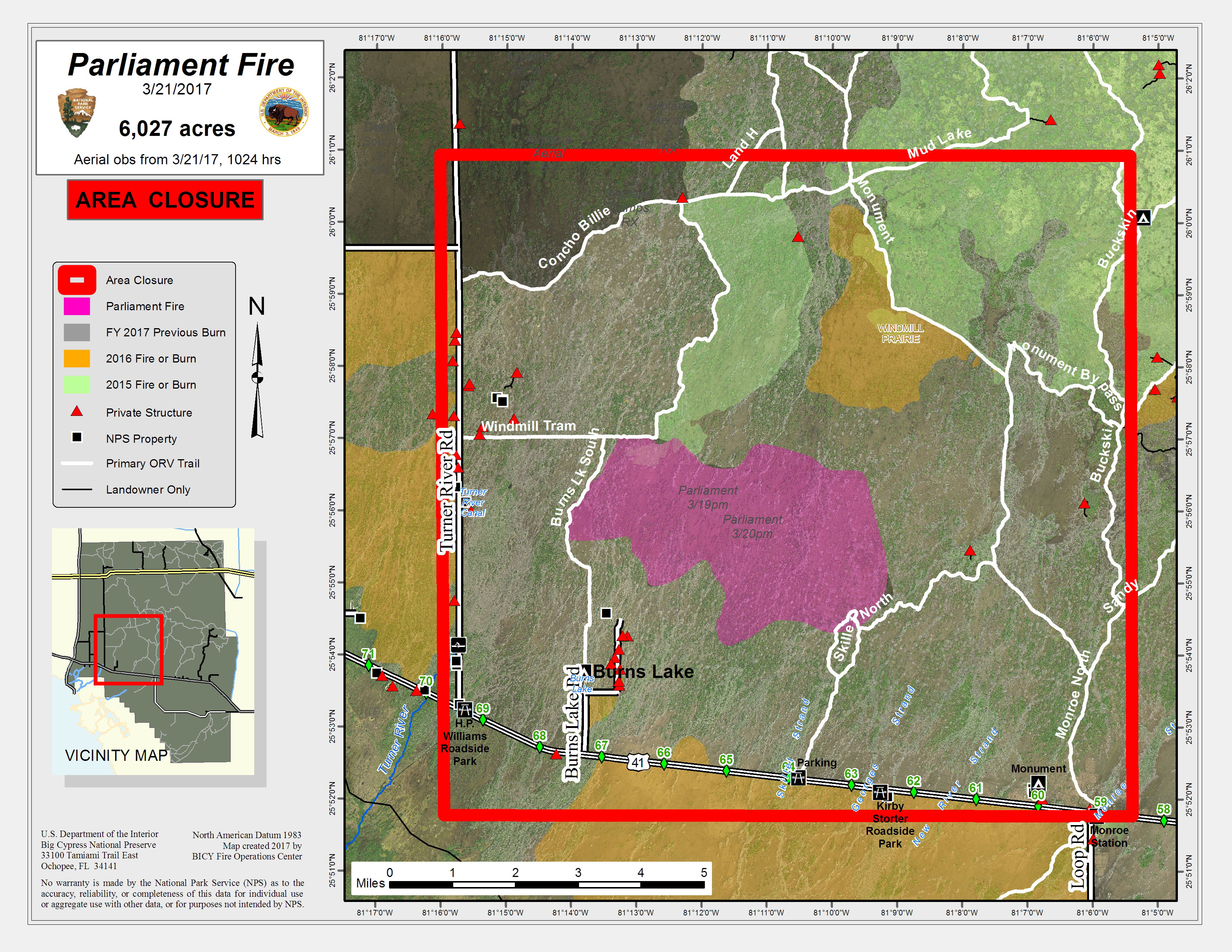 News Release Date:
March 21, 2017
Contact: Ardrianna McLane, 770-687-4061
Ochopee – Big Cypress National Preserve was notified during early evening hours on March 18 of smoke from a 60-acre wildfire that was reported north of Burns Lake Campground on the north side of Highway 41 in Big Cypress National Preserve.  The Parliament Fire is estimated to be 6,020 acres as of Monday afternoon and is burning in a mixture of grass, pine, and cypress habitat. The Southwest Florida and Caribbean Fire and Aviation Management Program (SWFLCAR), a cooperative program between Big Cypress National Preserve and the US Fish and Wildlife Service Region 4, District 6, has dispatched aviation and ground resources to the fire line. Due to the remote location and limited access, a Type 3 incident command organization has been mobilized to manage the fire today.     
"Current containment strategies, including natural and human made barriers, as well as trail and area closures have been implemented to protect firefighters and the public," said Big Cypress Superintendent Tamara Whittington. Today is the first operational day for the Type 3 incident command organization.  
Visitors and commuters should expect smoke along US Highway 41, Burns Lake Road, and Monument Lake Campground due to extensive smoke from the Parliament Fire. Florida Department of Transportation has issued a road closure for US Highway 41 from State Road 29 to Krome Avenue today beginning at 2:30 pm as conditions permit. This is due to the smoke impacts from the Parliament Fire. It is expected that smoke and possible fog impacts to US Highway 41 will occur through the evening. Travelers should use caution and obey posted signs in this area.  
Please refer to the attached closure order and map for active closures inside the preserve.    Updates will be provided as the situation continues to develop.  
The Greenup Fire, which began on March 16, is currently 162 total acres and 90% contained. Mop up operations will continue until all hot spots are located. The fire is located on the boundary between Big Cypress Seminole Reservation of the Seminole Tribe of Florida and the preserve's northeastern unit. If no significant changes occur, this will be the last report.
For additional updates and closures, please visit nps.gov/bicy for park alerts or fire updates here:
https://www.nps.gov/bicy/planyourvisit/fires-2017.htm
.