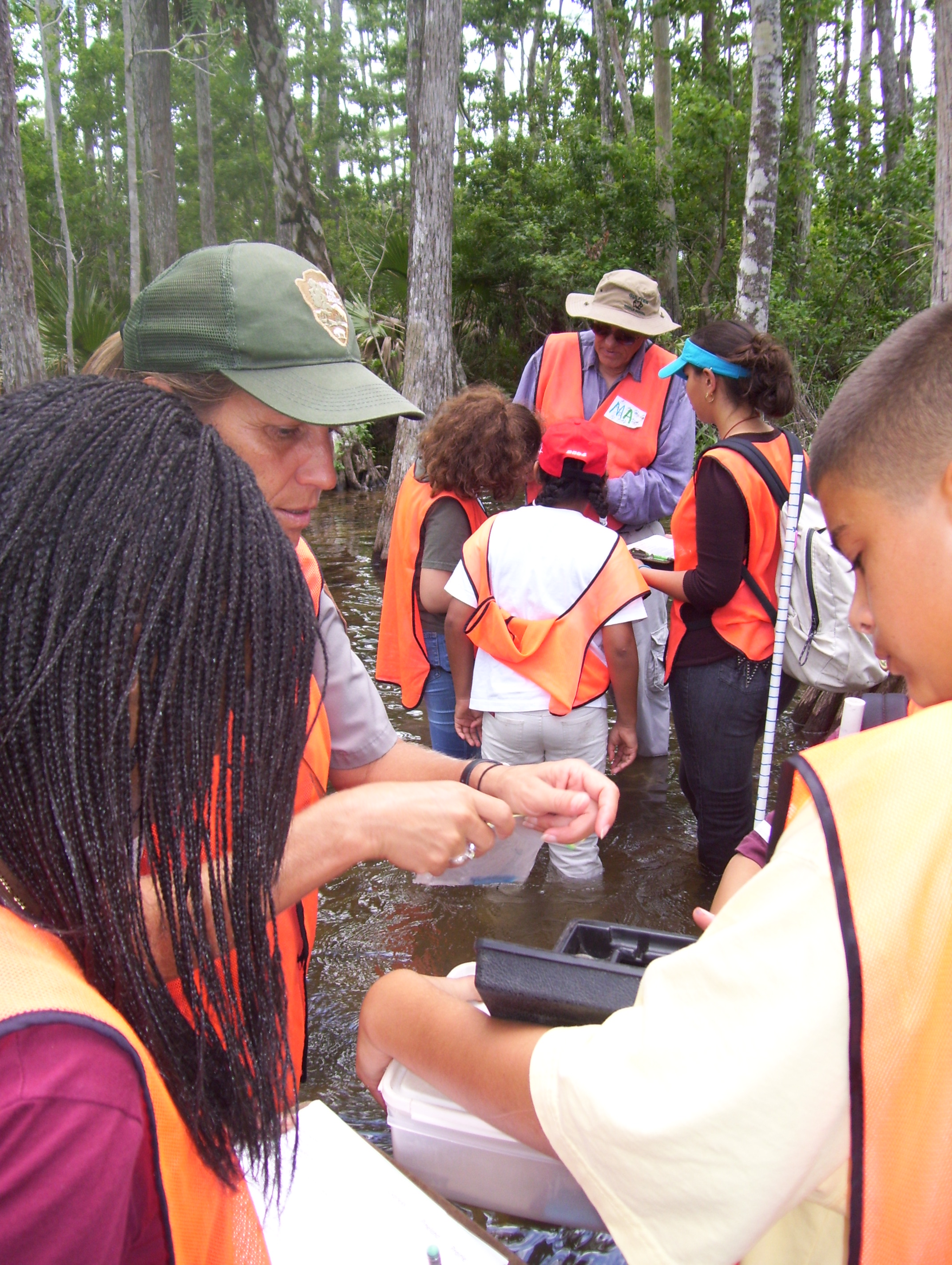 News Release Date:
November 26, 2014
Contact: Bob DeGross, 239-695-1107
A new season of environmental education programs for sixth-grade students in Collier County has begun with student field trips to the Big Cypress National Preserve scheduled from now through the end of March.
More than 3,000 students, teachers and parents are scheduled to explore the Big Cypress Swamp this season on ranger-led field trips while participating in the Swamp Water and Me Program (SWAMP), the preserve's hands-on environmental education program. The program gives sixth-grade students in Collier County the opportunity to become junior scientists and wildlife biologists for a day of field work in the Big Cypress Swamp.
The curriculum-based program:
o Connects students to the Big Cypress in an immediate and personal way.
o Encourages students to think critically about South Florida's environment.
o Fosters a better understanding of the connection between urban communities, South Florida's national parks, the region's biodiversity and its water supply.
o Instills a sense of wonder and stewardship among students for the natural world.

"The program gets students out into the swamp in a fun and exciting way that will build a lasting impression and connection not just to the Big Cypress but to the natural world in general." stated Lisa Andrews, Education and Outreach Coordinator at Big Cypress National Preserve.
Student field trips in Big Cypress began in October and continue through March. The programs are supported this year by the South Florida National Parks Trust (SFNPT), the official nonprofit partner of the Big Cypress National Preserve.


The SFNPT will host a fundraising event to benefit SWAMP on Friday December 5 from 7:00 to 10:00 PM at the Collier County Museum in Naples, with live music, dancing, food and refreshments in celebration of the preserve's 40th anniversary. Tickets for the event are $75 per person/ $125 per person. More information can be found at -
https://big40birthdaybash.eventbrite.com
.
The SWAMP education program has been in place at the preserve since 1998 and was started through a grant made possible by an innovative partnership between the National Park Service, Exxon Corporation, the National Park Foundation (NPF), and the National Science Teachers Association (NSTA). The program was created to encourage collaboration in science education between National Parks, schools and local communities.