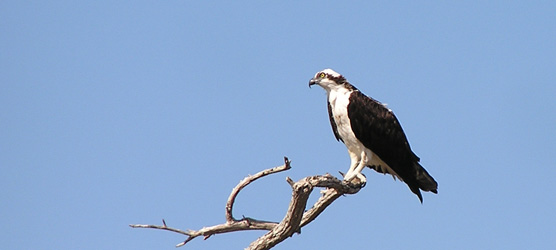 News Release Date:
December 10, 2007
Contact: Bob DeGross, 239-695-1107
On Tuesday, December 11, 2007 at 10:30 a.m. a Lee County Electric Cooperative (LCEC) lineman and Big Cypress National Preserve staff will be installing two osprey nest platforms at the Big Cypress National Preserve Headquarters located at 33100 Tamiami Trail East, Ochopee, FL.
This will be a joint effort between the two organizations to provide safe habitats away from power lines for the osprey through the LCEC Osprey Protection Program. Working with customers, the International Osprey Foundation and other partners, platforms are placed in locations where birds can safely nest without the threat of a power interruption or contact with electrical lines.
During the project an LCEC Lineman will install two osprey platforms built by the Big Cypress National Preserve staff onto LCEC donated poles. The platforms will be placed in two different locations near the Big Cypress National Preserve Headquarters. For more information on the Osprey Protection Program or to request specs on how to build an osprey platform, LCEC customers can call (239) 656-2202. After the platform is built, LCEC will provide the pole and manpower to safely install the platform.
Ospreys typically construct stick nests in live trees or snags between December and May each year in Florida. In the absence of naturally occurring nesting structures, they often build nests on man made objects (i.e. utility poles), often becoming injured. Artificial nest platforms are installed to aid the Osprey in avoiding injury and assist in their reproductive success.
Special thanks to Home Depot of Naples for generously donating materials for platform construction.
For More Information Contact
Bob DeGross, Chief of Public Affairs, Big Cypress National Preserve, 239-695-1107
Karen Ryan, Public Relations Manager, LCEC, 239-656-2204
Laura Zocki, Public Relations Specialist, LCEC, 239-656-2202