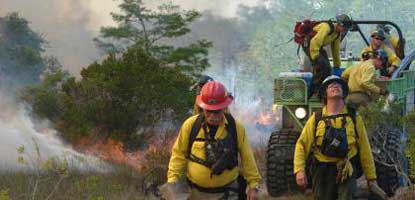 News Release Date:
May 23, 2007
Contact: Bob DeGross, 239-695-1107
Contact: Chris Worth, Incident PIO, 715-209-0095
Yesterday's Fire Activities: 
- Severe drought, readily receptive fuels, and strong winds greatly contributed to significant fire activity causing control problems. The western flanks of the Strickland and Midrest fires aggressively burned, spreading in a west-southwest direction through all fuel types. 
- Portions of most fires were difficult to access except with swamp buggies and helicopter crew shuttles.
- Firefighters continued to construct holding lines to retard the forward advance of the fires. Additionally, aircraft assaulted the fires' advance, dropping water on a significant portion of the north and west boundaries of the fires' perimeter. Fire crews persisted with mop up operations on other portions of the fires.
As of May 21, 2007the following areas remain closed to all recreational access and activities - the Florida National Scenic Trail (Florida Trail) from US 41 North to the Northern Boundary of the Preserve; all Addition Lands North of I-75; and, Addition Lands South of I-75 and East of Turner River Road; the Bear Island Unit of the original Preserve.
To date, no private properties have been damaged due to fires within the Preserve.
Fire Facts
Date Started: May 4, 2007; Cause of Ignition: Lightning; Location: north & east of Everglades City; Size: 32,100 acres; Percent contained: 55%; Est. Containment: Unknown; Aircraft: 3; Handcrews: 4; Equipment: Engines 5, Dozers 2; Number of Personnel: 218; Injuries to date: None          
The BICY Complex is currently made up of two major fires:
The Strickland Fire, located north of I-75 and, west of Levee 28 Interceptor Canal has grown to about 21,000 acres. The Midrest Fire, situated north of I-75 and west of the Strickland Fire is estimated at approximately 8,000 acres. The FT6, Trail, and HP fires, as well as various small fires, are either in patrol, mop-up, or monitoring status.
Today's Planned Events:
- Firefighters hope to take advantage of scattered, marshy areas, using water drops and flanking maneuvers, to slow the westerly advance of the Midrest Fire's flame front. Fire crews will continue mop up on the east side of the Midrest Fire. Fireline supervisors will scout out control opportunities along the west and southwest portions of the Strickland Fire (both north and south of I-75) where the fire continues to vigorously burn. Firefighters will continue extinguishing "hot spots" and mopping up the Strickland Fire's north and east perimeters. 
- Crews will also continue to monitor for fire activity near the community of Sanctuary, as well as identify any rehabilitation needs. With the continued drying conditions and projected east winds, firefighters will conduct patrol activities on both the Strickland and Midrest fires along I-75 to guard against any potential escape across the interstate or impingement to either the Florida Scenic Trail or Bear Island Unit.
- Air patrol will be diligently watching the Preserve's lands for any new fire starts.                       
Weather Forecast:
"REDFLAG" warning issued due to the high potential for extreme fire activity! Temperature High 92, winds E/NE 8-10 mph with gusts up to 22 mph, with a relative humidity of @40%.