Artist-In-Residence Artist Demonstration with Ramona Maziarz
Date:
February 10, 2014
Contact:
Christopher Derman, 239-695-1165
On February 14, 2014, current Artist-In-Residence Ramona Maziarz, will hold a pen and ink workshop demonstrating her medium and techniques. The workshop will be 11:00-1:00 pm at Oasis Visitor Center.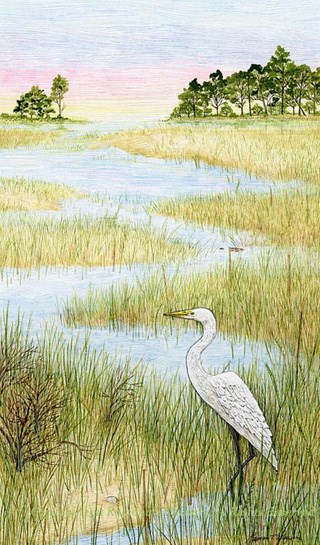 Regarding her residency, Ramona says;
"My artwork is detailed, colorful and often humorous. The wonderful way different plants and creatures grow together is what drew me to the study of nature. Nature determinedly leaves no place empty or untouched; weeds, flowers, insects, and creatures living their lives entwined.
It's that tangle of life I like to observe and ink. In the chaos of these layers, there is an order, a rule for life; to continue onward, upward, and outward.
I try to bring my scenes a gentle acknowledgement to honor the common creatures. I also try to bring the reality not always sought; like the weeds and bugs in a cultured garden or flowers under the glow of the moon.
My endeavour is to explore and find the small things lost in this busy world, bringing creatures and bits of nature forward so we may know them intmately again. It goes both ways, the creatures in my artwork look back at you as well."
The Art Demonstration Series offers a chance for the visitor to learn more about how our Artist-In-Residence create their works of art, while at Big Cypress.
The Artist-In-Residence Program at Big Cypress National Preserve offers professional writers, composers, and visual and performing artists the opportunity to pursue their artistic discipline while being surrounded by the national preserve's inspiring landscape.
For more information about the Big Cypress Artist-In-Residence program click here.
Last updated: April 14, 2015