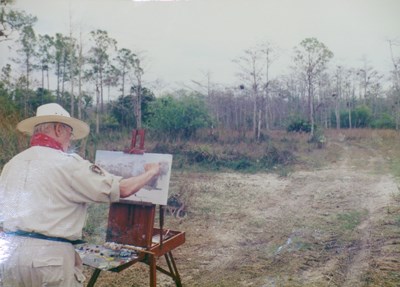 When painter Sam Vinikoff looked out upon the vast open prairies, he saw more than the Preserve's trees, grasses and swamps. He saw art. Hues of wildness surfaced in this talented artist's vibrantly colorful paintings. And for much of his life, the wilds of South Florida was his chief source of inspiration.
Before today's popular and well established Artist-In-Residence program at Big Cypress National Preserve, there was Sam Vinikoff. Sam regularly worked with park rangers, traveling to often rugged and remote locations capturing the beauty of the swamp onto canvas. He donated several of the pieces that resulted from those trips to the preserve for its fledgling art collection.
For those who could not physically make the trip themselves, he brought the Preserve to them in the form of his art. In doing so, he helped create an awareness of the stunning beauty the Preserve posesses, which resulted in compelling many to advocate for it during the Preserve's early years.