Fire Activity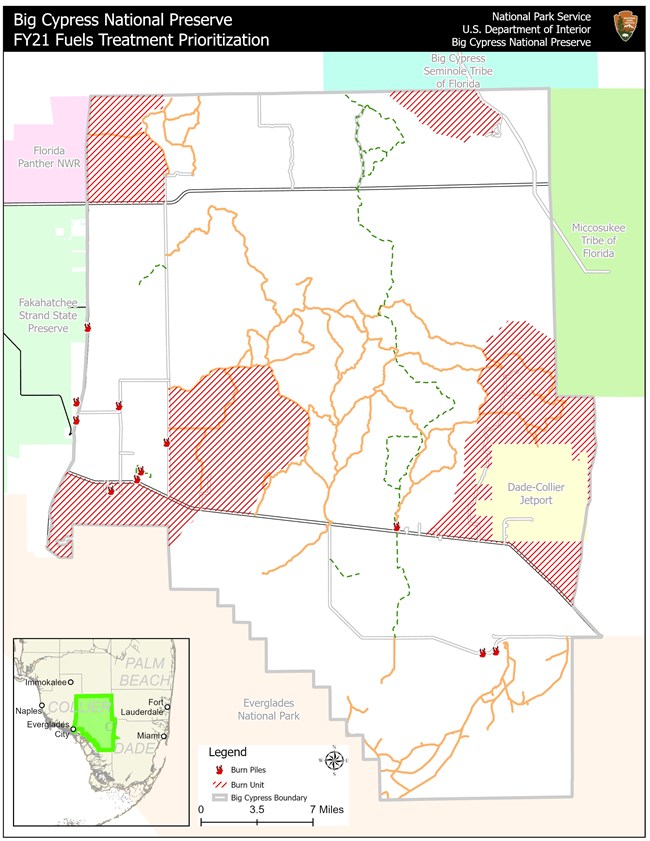 Big Cypress National Preserve Prescribed Fire Plan FY21
Release Date: Immediate
Contact:
Orlando Genao,
Orlando_Genao@nps.gov
, 239-695-9280 x 1316 (AFMO); or the Big Cypress Duty Officer 239-719-0241.
Annual Prescribed Fire Notification
OCHOPEE, FL – This is the annual prescribed fire notification for Big Cypress National Preserve Fire and Aviation program. This press release outlines the areas that will be targeted for fuels treatments in Fiscal Year 2021. Please see the attached map. Big Cypress National Preserve has one of the most active fire management programs in the National Park Service. Fire is an essential component of the Big Cypress ecosystem and is used as a land management tool to help reduce the risk of wildfires to communities and developed areas. In the long term, fire will benefit the ecosystem by renewing habitat and promoting ecological diversity.
Prescribed Fire Benefits
Helps reduce the risk of wildfire and protects communities adjacent to natural areas by reducing highly flammable vegetation.
Promotes and maintains healthy resilient fire adapted ecosystems.
Improves nutritional quality and nutrient cycling of soil.
Maintains habitat conditions for plants and animals.
Creates heterogeneity across the landscape and increases diversity in habitat types.
Maintains biodiversity within fire adapted habitats by promoting flowering and fruiting of plant species.
Restores fire to landscapes that no longer experience the natural historic flow of fire due to habitat fragmentation.
Helps to manage exotic invasive plant populations.
Safer, efficient, and more cost effective than wildfire management.
Implementation of these treatments will be weather and resource dependent. Additional notifications will be sent out prior to project implementation. If you have scheduled activities in the treatment areas, please inform the Fire and Aviation staff.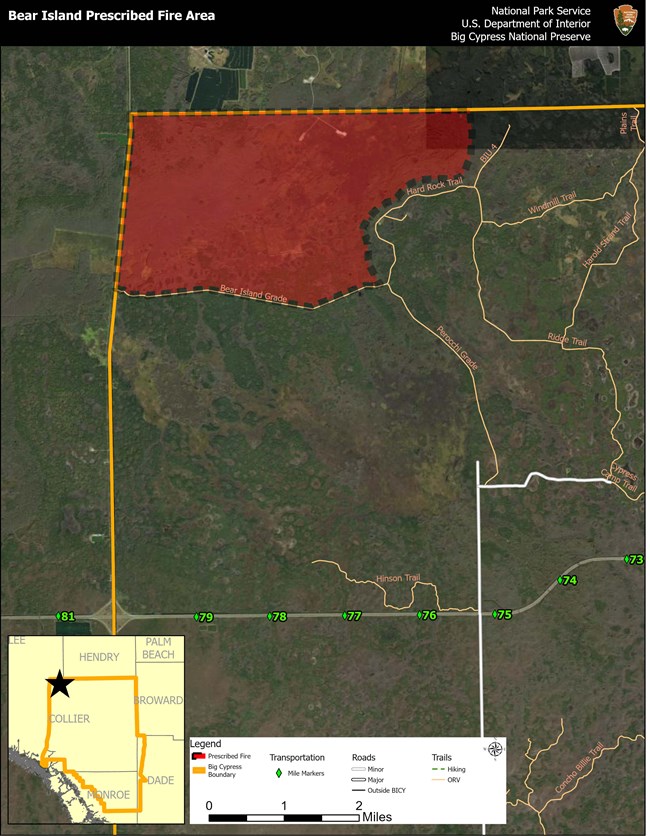 Release Date: April 10, 2021
Weather Permitting, Big Cypress National Preserve will be conducting a 6,000-acre prescribed fire today in the Bear Lake area located in the Northwest corner of the Preserve. Smoke from this fire may be visible from Highway 29 and I-75 for the next few days. If you have any questions, please call South Florida Parks and Preserve Prescribed Fire Specialist, Michael Gue at 305-338-6069.
Update: This prescribed fire is complete as of 4/11/21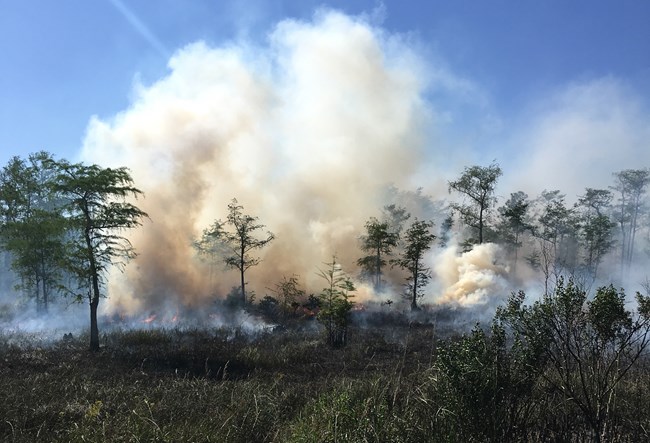 On average, Florida experiences the second highest number of wildfires in the nation. Fire is a natural, and needed, part of the Big Cypress ecosystem. Many plants and animals have evolved with fire and benefit from fire, yet when fires are unplanned, rather than controlled prescribed fires, firefighters must take steps to suppress the fire.
Suppressing fire is done to protect the safety of people and stop the loss of structures. Wildfires can also burn very intensely sometimes causing more harm than good to the environment because of the buildup of brush and deadfall. Communities and individuals alike can help reduce the incidence and magnitude of wildfires by creating a defensible space around their homes or outbuildings.
Last updated: April 11, 2021