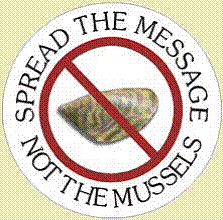 Stop Zebra Mussels - NOW!
Zebra or guagga mussels are invasive freshwater mollusks that infest waters in large numbers, attaching to hard surfaces. have widespread impacts on power plants, irrigation systems, and other water users. They clog pipes, pumps, turbines and filtration systems.

At this time Bighorn Canyon does not have zebra mussels, but our neighboring states of Colorado and Nebraska do. Once the mussels invade a water way, they clog power-plant and public water intakes and pipes. These creatures then spread to new habitats on boats trailered by the public or by commercial haulers unaware they have hitchhikers. You can help stop aquatic hitchhikers by following these simple steps:
Don't let it loose!!!

Released pets can harm the ecosystem and even people. Please don't let them loose. Never release a plant or animal into the wild. Always remember to C.A.R.E. for them.
Contact...the place where you purchased the pet to see if they will take it back.
Act responsibly...by never letting animals or plants loose into the wild.
Research...other places that may be able to provide a new home for your pet. Pet stors, zoos, animal shelters and humane societies may be able to help.
Euthanize...the animal in a humane way. It may be hard to consider, but this option is far kinder than letting it starve to death.