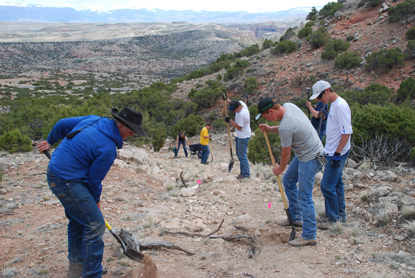 News Release Date:
May 10, 2013
Contact: Christy Fleming, 307-548-5406
On May 9th, a group of 18 FFA students from Lovell High School worked with Bighorn Canyon staff to reclaim a short segment of an abandoned road that was used as an access road for construction of the power line in 1956 and 1966 with in the National Recreation Area. Park staff was impressed with the amount of work that was completed. Patti Martin, project lead said, "It would have taken three of us one week to complete the work the students did in six hours. They all worked extremely hard and we are grateful for their help."
The site reclamation plan to reestablish the vegetation along the road scar included planting native plants, hand seeding and removal of road structures. Students broke into groups digging holes using rock bars and earth augers, moving rocks, and repairing historic drainages. Other students applied peat moss to the holes along with water. Plants were then placed in the ground and woody debris of old trunks and branches locally abundant were collected and distributed around the plants for protection against animals and the elements. The final step was to hand seed patchy areas to accelerate the revegitation of the area. When completed 96 Rocky Mountain juniper and curl leaf mountain mahogany had been planted and a half mile of road scar was reclaimed.