RV Camping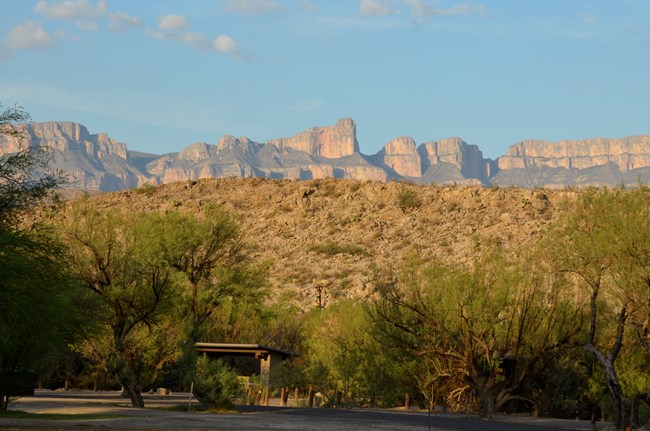 Developed Campgrounds
The concession-operated Rio Grande Village RV Campground offers 25 sites with full hook-ups (water, electrical, and a 3-inch sewer connection). For reservations call 1-877-386-4383 or 432-477-2293.

The National Park Service operates three developed frontcountry campgrounds suitable for RVs that provide drinking water and restroom facilities. Dump stations are located at Rio Grande Village and the Chisos Basin campground. The campgrounds use self-registration and the majority of sites are first-come, first-served.
NPS Campground Reservations
A limited number of campsites in the Rio Grande Village campground are reservable from November 15-April 15, and in the Chisos Basin campground from November 15–May 31. Reservations must be made 4 days ahead of arrival and can be made up to 6 months in advance by visiting recreation.gov or by calling 1-877-444-6777. Big Bend National Park cannot make reservations. For more information visit the campground reservations page.
Primitive Roadside Camping with RVs and Trailers
Note: Generator use is not allowed at primitive roadside campsites.
The majority of primitive roadside campsites in Big Bend are inaccessible to RVs and trailers.
Camping permits for sites that are accessible to RVs and trailers are in high demand. Small RVs (less than 30 feet) and trailers (less than 25 feet) may be accommodated at the following sites depending on availability and road conditions:
Croton Springs 1 & 2
Grapevine Hills 1, 2, & 3
Hannold Draw
(only site with a horse corral)
K-Bar 1 & 2
Nine Point Draw
Paint Gap 1, 2, & 3
Permits for primitive roadside campsites can be issued at any visitor center during operating hours. All permits are issued in person and must be obtained before the backcountry use. Backcountry use regulations and group size limits apply. Visit the
backcountry use
page for more information.
Camping Limits
Visitors can stay in the park up to 14 consecutive nights in either a front or backcountry site, with a limit of 28 total nights in the park in a calendar year. Campers can occupy a specific site up to 14 total nights in a year. Between February 1–April 15, visitors are limited to a total of 14 nights in the park.
Last updated: March 21, 2018