Big Bend National Park COVID-19 Status & Updates

Current Status:
Big Bend National Park is Open for Day Use.
All paved roads and select frontcountry hiking trails will be open for desert exploration. No Day Pass Reservations Needed.
No camping or overnight accommodations. Chisos Restaurant open for take out meals 11:00 a - 5:00 p.

Groups of non-household members are limited to 5, including guides.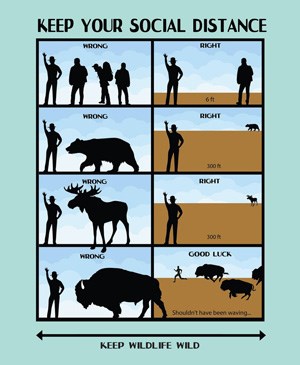 Re-opening Begins June 1st at 9:00 AM
Beginning June 1st, Big Bend National Park will resume Day-Use Only access for:
Scenic driving and bicycling along all paved park roads.
Select frontcountry trails for day hiking:
Chisos Mountain Trails:
The Window, Window View, Lost Mine, Emory Peak, South Rim, Laguna Meadows, Boot Canyon, Colima, Pinnacles, Boot Canyon.

East Side Trails:
Dugout Wells, Rio Grande Village Nature Trail, Boquillas Canyon Trail.

West Side Trails:
Sam Nail Ranch, Burro Mesa, Ward Spring, Chimneys, Mule Ears Spring, Tuff Canyon, Dorgan-Sublett, Santa Elena Canyon Trail.
Rio Grande for day use river trips from paved road access points only.
Groups of non-household members are limited to 5.
Chisos Mountains Restaurant: Open for take-out meals only.
Limited menu. 11 am to 5 pm.
Panther Junction Gas Station and store.
OPEN 8:00 am to 5:30 pm. limited selection of food/snacks/drinks

Fossil Discovery Exhibit.

Restroom facilities.

Be Prepared for Summer in the Desert:
Visitors to Big Bend must be prepared for the extreme summer heat of the Chihuahuan Desert. During the summer months, temperatures in the park's lower elevations and river areas typically exceed 100 degrees by late morning, and remain at dangerous levels until after sunset. Hikers should stay off trails in the afternoon and carry (and drink) plenty of extra water.
With public health in mind, the following areas and facilities will remain closed at this time:
All Visitor Centers.
All campgrounds and backcountry campsites.
Chisos Mountains Lodge overnight accommodations.
Rio Grande Village and Chisos Basin Camper Stores.

All gravel roads and backcountry roads.

The Hot Springs Historic Area and associated trails.

Boquillas Port of Entry.
Where Can I Stay? Camping, Lodging?
There are a variety of options for camping outside the park while Big Bend camping remains unavailable.
There are a variety of accommodations available outside of Big Bend National Park. A list of accomodations is available at VisitBigBend.com.
What's Next?
Big Bend's phased approach is designed to gradually allow increased access, while maintaining employee, visitor, and local community safety, and to avoid overwhelming the area's limited medical services. The park will actively monitor conditions (in the park and in surrounding counties); and will maintain flexibility to expand, adjust, or contract operations as health conditions warrant. All changes will be listed on this webpage.
Last updated: June 2, 2020