Zone Camping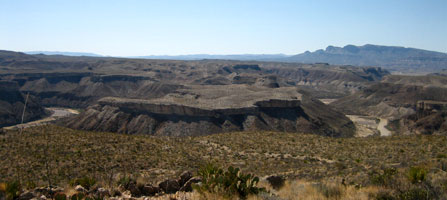 Zone camping is available throughout much of the park's desert elevations. The scenery varies from Rio Grande floodplain and arid badlands to sotol grasslands and rugged volcanic peaks. Some areas are regularly used and easily accessible while other more isolated areas are seldom used.
Things to Know
Zone camping requires a backcountry permit.

You must specify a particular zone for for each night of your itinerary.

Individual group size is limited to 15 people. Larger groups must split up, and may not camp in adjacent zones.

Camp must be at least 0.5 mile (.8 km) from the road and out of sight of any road.

Camp must be at least 100 yards (91 m) from any trail, historical structure, archeological site, dry wash, water source, or cliff edge.
Backcountry Zone Map
(220k PDF)
Map of backcountry zone camping areas with names, codes, and capacities. Formatted to fit on legal-size paper.
Hiking the Outer Mountain Loop, Mesa de Anguila, or the Marufo Vega Trail
The most remote areas of Big Bend National Park are best left to experienced backpackers. Each year, park rangers respond to desert emergencies when hikers are not prepared for the heat and extreme conditions of the desert.
Due to the complex topography and vague trails, detailed 7.5 minute topographical maps and a compass are necessary for most hikes.