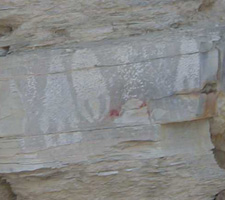 The Prehistoric Era (9000 B.C.–1535. A.D.)
The idea of the Big Bend as "desplobado," or unpopulated, is difficult to dispel. The fact remains that Big Bend has been more or less continually inhabited by humans for thousands of years. The archeological record reveals that earlier inhabitants developed a nomadic hunting and gathering life style so successful that it remained virtually unchanged for several thousand years. Human occupation of the Big Bend during this prehistoric area can be generally divided into five periods:
Paleo-Indian (ca. 8000–6500 B.C.)
Early Archaic (ca. 6500–3000 B.C.)
Middle Archaic (ca. 3000–500 B.C.)
Late Archaic (ca. 500 B.C.–1000 A.D.)
Late Prehistoric (ca. 1000–1535 A.D.)

Throughout the Paleo-Indian period the inhabitants of the Big Bend depended upon large game hunting as their primary source of food, and materials for clothing and shelter. As the slowly changing climate caused a reduction in the numbers of large game animals, primarily bison, the Indian groups of the Archaic Periods adapted by utilizing a combination of hunting smaller game with a type of spear thrower called an atlatl, and gathering and processing plants for food, clothing, and shelter. These highly efficient methods maintained a relatively stable lifeway for about 7500 years. Not much is known about these early Indian groups. It is not known by what name these early Indians were called, or what they called themselves. That information did not survive into the historic period. By the Late Prehistoric period (1000 A.D.) the native people of the Big Bend had come under the influence of agricultural groups to the northwest. Agricultural villages existed near present day Presidio, Texas, and it is suspected that some limited agriculture was practiced by Indian groups in the area of the park. During the Late Prehistoric, Indians of the Big Bend began to use the bow and arrow, and groups northwest of the park were using pottery.