Serpentine Hot Springs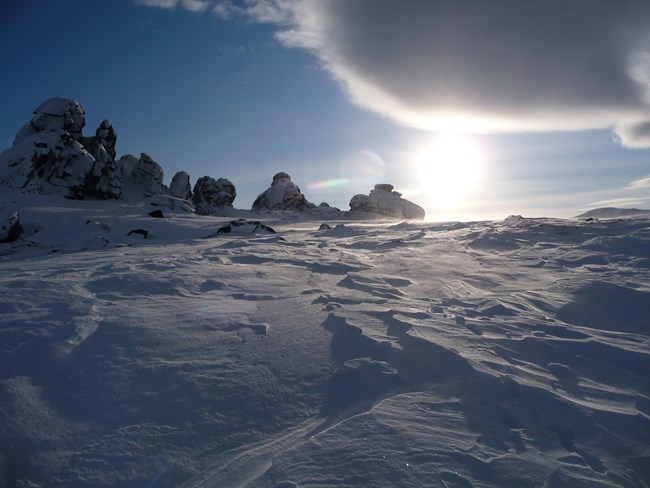 The preserve is vast and access is limited to Serpentine Hot Springs; there are no roads that lead into it. Serpentine can be accessed by small airplane, foot, bike or snowmobile.

Geographic Coordinates: 65.8569N, 164.7142W
Modes of Transportation
Aircraft
Visitors usually reach Serpentine Hot Spring by aircraft. Bush planes can land on an unimproved landing strip, which is a short walk from the bunkhouse, outhouse, and hot spring bathhouse. Commercial use operators provide transportation services to Serpentine Hot Spring from Nome and Kotzebue.

Snowmobile
Once there is adequate snow cover, access can be made via snowmobile. Many people travel to the hot spring by snow machine from Nome or local communities. The distance is over 100 miles from Nome, so travelers should be prepared to make a two-day trip each way. Tripod trail markers mark the trail but they may not be standing and visible especially during white out conditions. GPS is recommended or travel with a person knowledgeable of the area. Be prepared for camping outside in extreme weather.
Learn more about
snowmobiling
in the preserve!
Prohibitions
Helicopters, ATVs and other off-road vehicles are prohibited in the preserve.

Hiking
From Nome
From Nome you may drive the gravel Kougarok Road 86 miles towards the preserved. At the end of the road you will reach a bridge. Park on the side of the road and follow the wooden tripod markers for about 30 miles on foot. This route takes you over wild tundra. There is no trail. Do not rely on the tripod markers as your sole source of navigation. Normal wear and tear, fog or whiteout conditions may cause them to not be visible.

From Deering
The village of Deering is located at the mouth of the Inmachuk River, northeast of Bering Land Bridge National Preserve. An approximate 20-mile long each way backpacking route leads south from the village and into the preserve. The first part of the route follows an atv path, while the second part is hiking on open tundra. Both sections follow the Inmachuk River and require route-finding skills.

Before starting your trip consult a map and plan for each day of your trip. Remember, hiking on the tundra can be slow as the terrain is rough and uneven. It takes people multiple days from Deering or Nome to get to Serpentine. Use of GPS is highly recommended. Take extra batteries for your unit and a compass and topographic map as a backup in case you encounter technical difficulties. Also be sure to bring a bear canister to store your food during your overs


Additional Information:
Preserving our Past
Ancient artifacts are windows to the past, and allow us to piece together the history of Serpentine Hot Springs. Taking or disturbing artifacts from federal public lands is a felony. Please enjoy the hot springs responsibly, leave any artifacts as you find them, and report them to the Bering Land Bridge National Preserve office in Nome.
Last updated: February 12, 2018