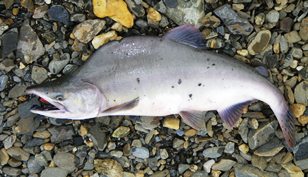 Salmon
Salmon may be a coveted sport fish in Alaska, but in fact each individual salmon's life is more fleeting and extraordinary than you might realize.
In the Seward Peninsula, a salmon's story begins in the freshwater streams and rivers that connect to the Bering Sea. At first camouflaged for the river, juveniles undergo extreme changes in both appearance and physiology as they begin their migration out to the ocean. Their gills and kidneys change to process saltwater, and their coloration transforms to match that of other marine species. In addition, their diet changes from plankton and insects, to small fishes.
By the age of 2 or 3 most salmon are full grown. Remarkably, at this age a salmon will return to spawn in the exact same river it was born in; it will only spawn this one time and die soon after. Before death however, a salmon will undergo more extreme changes in appearance, taking on a reddish color and developing a strongly hooked snout and large teeth. Females will prepare several nests and there the eggs will remain for about 6 weeks before the cycle begins all over again.