Birds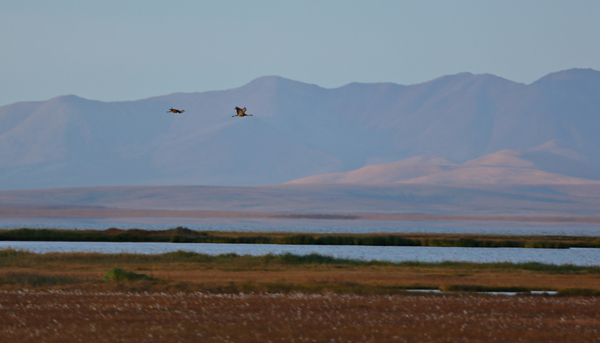 Wow, what was that? If you hear a noise that belongs in the time of the dinosaurs, don't be alarmed. It is most likely just the call of the Sandhill Crane (sounding something like a trumpeting, rattling gar-oo-oo), one of the many species of birds that can be found in Bering Land Bridge National Preserve. Bering Land Bridge National Preserve's diversity of habitat type creates opportunities for a wide range of visiting birds. The landscape is sprinkled with lakes, bare rock ridges, and patches of low-growing willow shrub. More than 170 species of birds migrate as far as 20,000 miles to Bering Land Bridge on a yearly basis to nest. The Preserve is at the crossroad of the Asiatic-North American flyway, which offers rare opportunities to observe old world species difficult to find anywhere else in North America.
Part of the reason that Bering Land Bridge National Preserve was created was to "protect habitat for internationally significant populations of migratory birds." It has done just that by being one of the main nesting locations for Yellow-Billed Loons, and numerous other waterfowl. The preserve also has a large population of terns, sandpipers, plovers and seabirds. While Bering Land Bridge National Preserve may be one of the most difficult National Park units to access, the amazing birds that live here are worth the trip!
To download a list of birds found in and around Bering Land Bridge National Preserve, click here!