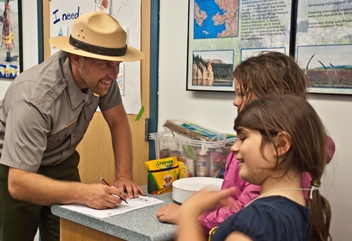 Bring a Ranger to YOUR Classroom!
A curriculum based ranger program can help you and your students meet grade level expectations. Ranger programs are an excellent tool to introduce or review a subject with your students. Rangers will visit classes in the Bering Strait School District and Nome Public Schools.
Hands-on activities and multimedia presentations keep students engaged in the program activities. Techniques such as cooperative learning, problem based learning, and resource immersion challenge students to explore topics more deeply.
Ranger programs also provide an opportunity to bring topical issues into the classroom learning environment while addressing Alaska curriculum standards. To explore options for a ranger visit to your classroom download
this PFD
.
If you would like to bring a ranger to your classroom or just discuss program options
email us
or call us at 907-443-2522 or 1-800-471-2352.
Programs involve hands-on activities, experiential learning, and interactive education kits to engage students in a variety subjects. Read about Ranger Katie's visits to
Krista Marvin's 5th grade class
at Nome Elementary School!