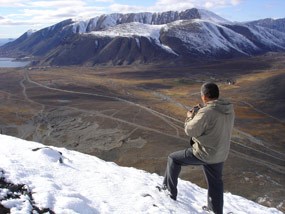 In 1991 President George HOW Bush and Russian President Mikhail Gorbachev signed an agreement to establish an International Heritage Park, again connecting the people of Beringia.
The International Heritage Park is not yet established, but cooperation between Bering Land Bridge National Preserve (US National Park Service) and Beringia Nature-Ethnic Park (Russia) along with the National Park Service Beringia Shared Heritage Program has created a forum for exchange of heritage, ideas and information between the parks and nations. The annual Beringia Days Conference is one forum for these exchanges.
Beringia Nature-Ethnic Park is a 7,544 acre park with a rich diversity of landscapes, plants and wildlife. The people who live in and near the park are connected to the land and water and the life it provides for them, just as the people in Northwest Alaska do.
Beringia Nature-Ethnic Park is a living museum just like America's National Parks. Beringia Ethnic-Nature Park helps to conserve wildlife species such as bears, walrus, birds,fish, wolverines, fox and other animals. Plant life is protected including endemic species found no where else in the world. The culture of the people of the Chukotkan Peninsula is supported in the park as well. Hunting and festivals are common events throughout the year.
As the National Park Service and the Beringia Nature-Ethnic park continue to work together the people on both sides of the Bering Sea are re-connected, creating a bridge for information and cultural exchange. Making friends and re-uniting families.