Visiting in Summer 2021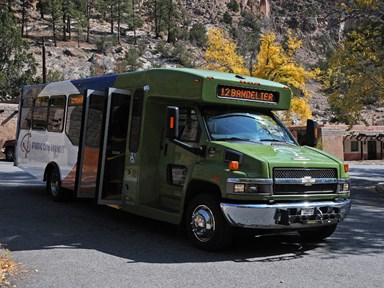 Bandelier normally operates a Shuttle Service starting mid-May through mid-October but due to COVID operations the shuttle will not start operating until the COVID Guidance changes. That is likely to happen sometime in June, 2021. Bandelier will update any changes in operations as soon as they are known to provide visitors with as much advance notice as possible. Visitors should check the BAND web page just before visiting Bandelier to look for updated shuttle service operations in the event conditions change. So for summer 2021, whether there will be a mandatory shuttle service from May to October is uncertain. Be sure to check back here a short time before visiting the park as conditions can change with as little as two weeks notice.

If there isn't a shuttle system in place when you visit, it is important to remember the shuttle system was established because visitation levels exceeded parking spaces on most summer days. If possible, avoid visiting at the busiest time of the day (10:30 AM - 2:30 PM) or you may be turned away. We are limiting access to only the number of vehicles that our parking lot can accomodate. If we reach the parking limit, you will need to leave the park and come back later for your visit.

Shuttle Bus May Be Required June - October , 2021
If a shuttle bus is required, the following rules will apply.
Visitors are required to take a shuttle bus from the White Rock visitor center to access the main visited area of Bandelier National Monument between the hours of 9 AM and 3 PM, including the visitor center, Pueblo (Main) Loop Trail, and Falls Trail. Shuttles run approximately every 30 minutes weekdays, and 20 minutes weekends. Last shuttle leaves the Frijoles Canyon Visitor Center at 5 PM.
You may drive directly to the monument and into Frijoles canyon if you meet the following exemptions:
It is before 9 AM or after 3 PM

Vehicles displaying a disability tag or plate

Vehicles with a pet on board (Please note: Pets are not allowed on ANY trails)

Juniper Campground access (A shuttle is still required into the canyon 9am to 3pm)

Overnight backpackers whose trip starts in Frijoles Canyon

Bicycles

If you have official park business

Unloading and loading of tour groups
The shuttle bus is free, however; a park entrance fee is required for Bandelier and can be purchased from the White Rock Visitor Center, the kiosk near the shuttle pick-up site in White Rock, or paid at the park visitor center upon arrival. See the shuttle schedule and map to the White Rock visitor center below.
Visitors may continue to drive into this main visited area of the park before 9 AM and after 3 PM daily (all access is by shuttle bus from 9 AM - 3 PM). For those early and late arrivals, be sure to display your park pass or entrance fee receipt in your vehicle. If you arrive before 9 AM you can drive out of the park at any time. You don't have to wait until after 3 PM. If you leave the park, you may not reenter the park except by shuttle bus between 9 AM and 3 PM. Last shuttle leaves the Frijoles Canyon Visitor Center at 5 PM.
You can still drive into a number of areas of the park any time of the day including Juniper Campground, Tsankawi, and to the many trails outside of Frijoles Canyon located along NM Highway 4. Remember the park closes at sunset, so plan to leave before that time.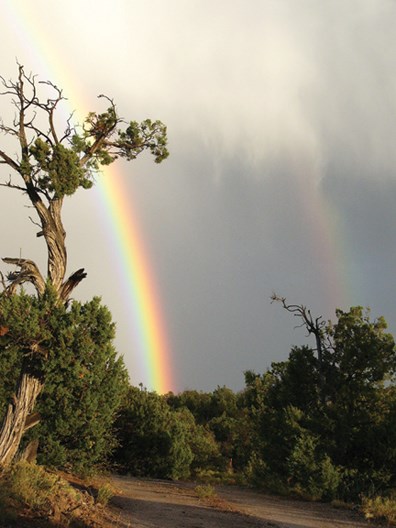 Summer Visits
Summer weather in Bandelier is hot and dry in June then afternoon thunderstorms crop up in July and August. Bring plenty of water when hiking as well as a hat and sunscreen. Biting insects are uncommon so bug spray is not usually required. In late summer (July, August, and Sept) it is wise to begin a long hike early in the day before storms develop in the afternoon with heavy downpours, volumous hail, and dangerous lightning. Heavy rains can cause flashflooding in all the park canyons. Although this threat increased dramatically after the Las Conchas Fire in 2011 burned the upper watershed of the park canyons, the risk is slowly returning to normal as vegetation regrows. Watch for wildlife including black bear and rattlesnakes. Keep a safe distance of at least 50 yards.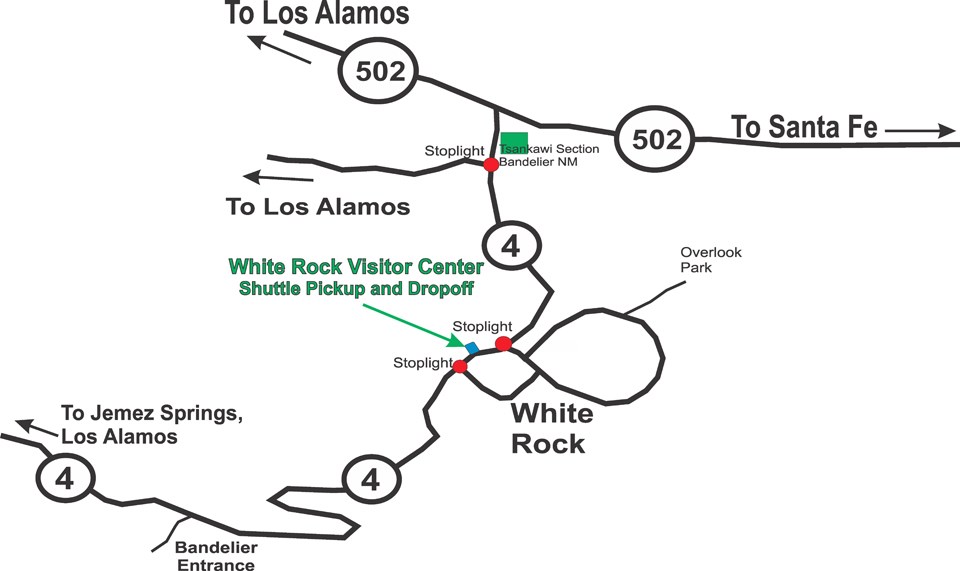 Last updated: June 14, 2021