Visiting in Summer 2023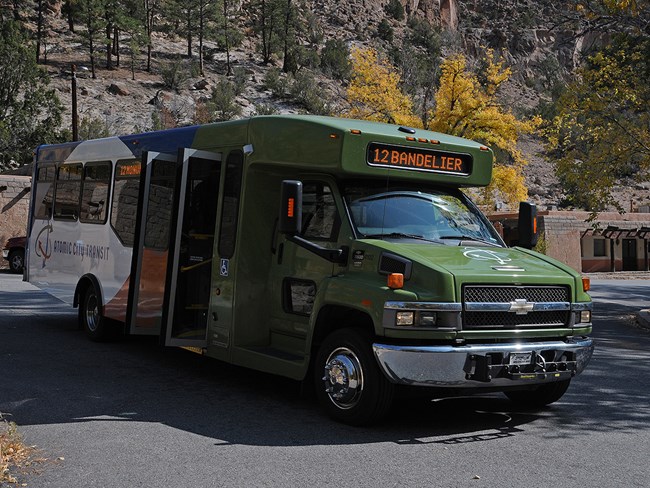 Mandatory Shuttle Buses Run June 14, 2023 to Mid-October 2023
Beginning June 14, all visitors who would like to visit Frijoles Canyon including the visitor center, park store, café and Pueblo Loop Trail, will be required to take a shuttle between the hours of 9 AM and 3 PM daily. Outside those hours, visitors may drive directly down into Frijoles Canyon. The shuttle bus will carry visitors from the White Rock Visitor Center (
115 State Road 4, Los Alamos, NM 87547
) to the Frey Trailhead (across from Juniper Campground, more information lower on page) and then to the park visitor center. Shuttles run every 30 minutes on weekdays and every 20 minutes on weekends. Last shuttle each day leaves the visitor center at 5 PM. There is no charge for riding the shuttle but all normal
National Park Service entry fees
still apply. Fees are based on the vehicle visitors arrive to the shuttle in, which is not a per person basis usually. For most visitors the charge would be $25 for a single vehicle or a single NPS pass for one vehicle. All visitors are required to check in with a ranger when they arrive in the park.
June 1, 2023 Press Release:
Shuttle Update - Bandelier National Monument (U.S. National Park Service) (nps.gov)
These are exceptions where visitors are not required to ride the shuttle:
1. Visitors can drive in before 9 AM and after 3 PM
2. Bicycles
3. Anyone with Handicap Placard
4. Anyone with an Overnight Backcountry Permit
5. ALL Commercial Groups
6. Educational Groups in a Bus or Van
7. Anyone on Official Park Business
8. Campers going ONLY to Campground (Shuttle Stop into Canyon at Campground)
Why A Shuttle?
During the off season when the shuttle is not running, visitation often exceeds our limited number of parking spaces within walking distance of the things that visitors want to see. When we don't have enough parking visitors have to be turned away and asked to come back later. The shuttle allows us to accomodate more people.
There are a number of
wonderful alternatives
if getting into Frijoles Canyon and the sites there just isn't working out for you.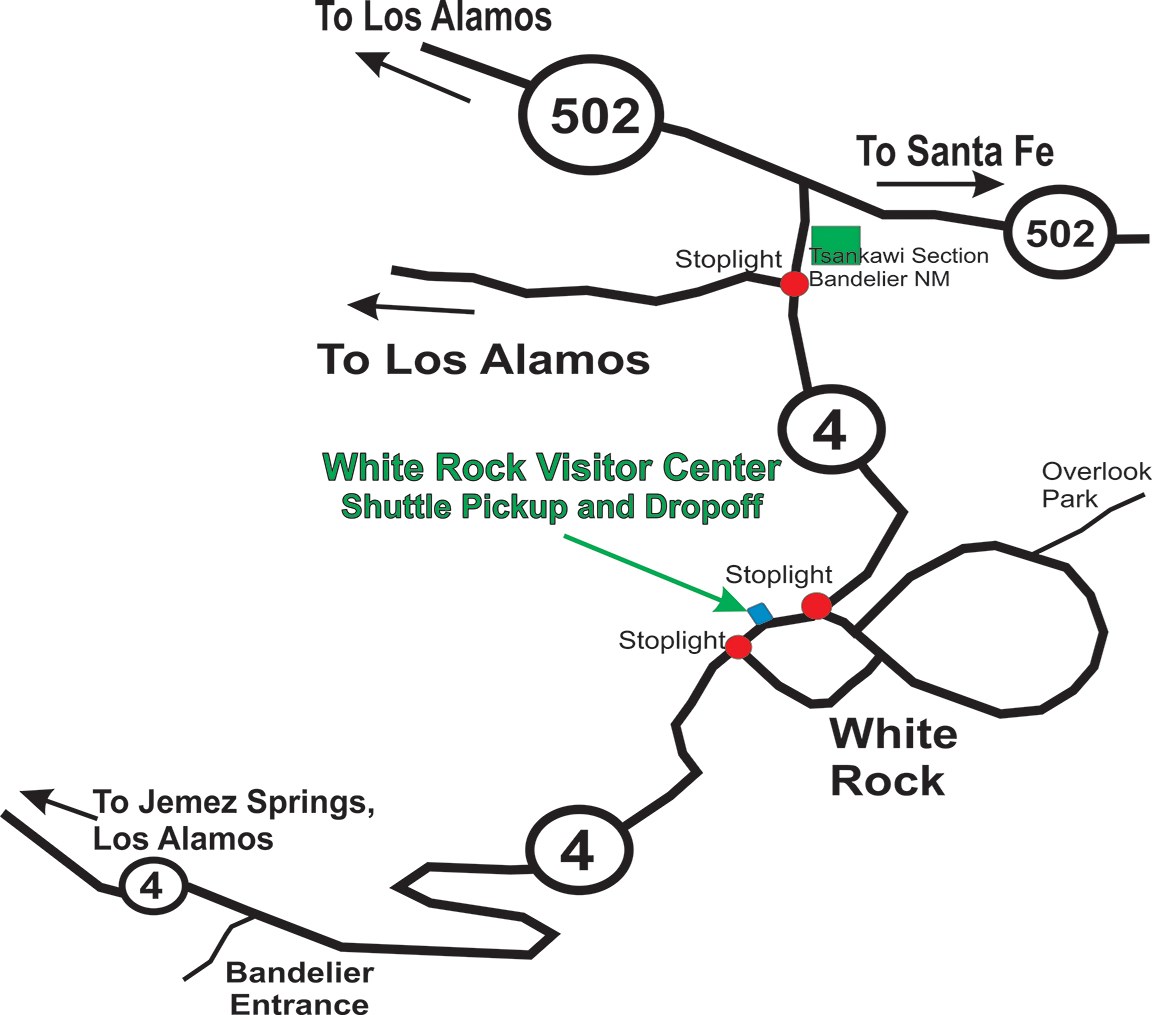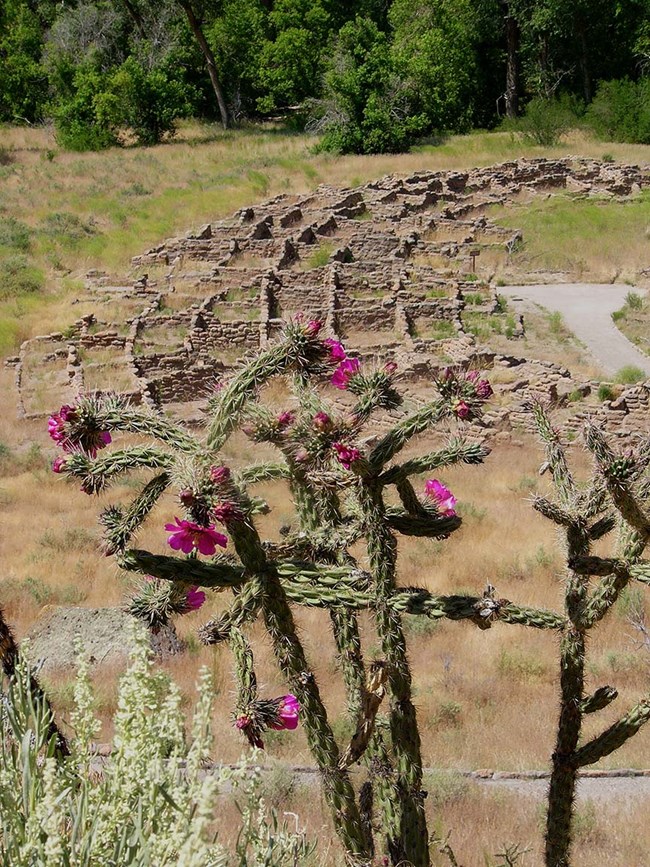 Some Suggested Hikes
Main Pueblo Loop Trail
1.4 miles roundtrip, located right behind the park visitor center, lots of archeological sites
Falls Trail
3 miles roundtrip, located just down canyon from the park visitor center, waterfall dry in summer but cool geology
Frey Trail
2 miles roundtrip from visitor center to Juniper Campground, located midway on the Main Pueblo Loop Trail, great overlooks, 550 foot elevation change
Tyuonyi Overlook Trail
2.2 miles roundtrip, stays on the mesa, starts near Juniper Campground, great views into Frijoles Canyon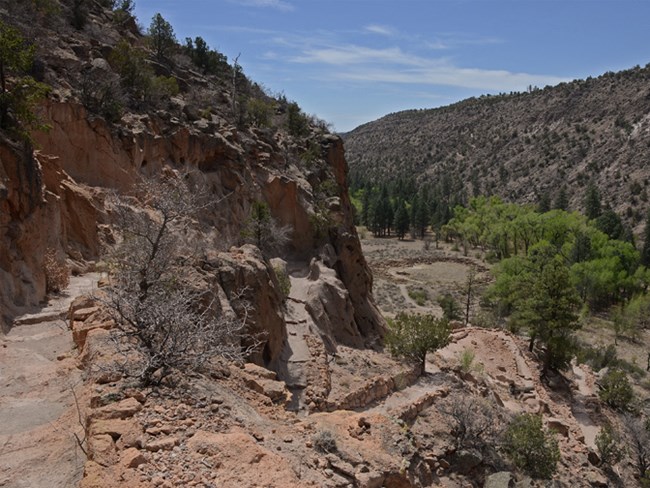 Hiking the Frey Trail From Juniper Campground
If you are staying at Juniper Campground or get dropped off by the shuttle bus at the Frey Trailhead, you can hike down about 550 feet in elevation on steep switchbacks to access both the Pueblo Loop Trail and the park visitor center. It's 2 miles one way. The trail is steep and rocky with minimal shade but the amazing views are worth it for those willing and able to do the hike. The best news is that if you want to hike the Frey Trail down when the shuttle is running you can always ride back up to Juniper Campground.
Visit our keyboard shortcuts docs for details
Duration:

13 minutes, 2 seconds
This movie was filmed in the early 2000's and gives a good overview of what the park is/was like. It is the same movie that is shown in the park theater on a big screen when possible.
Last updated: June 13, 2023