Visiting in Summer 2022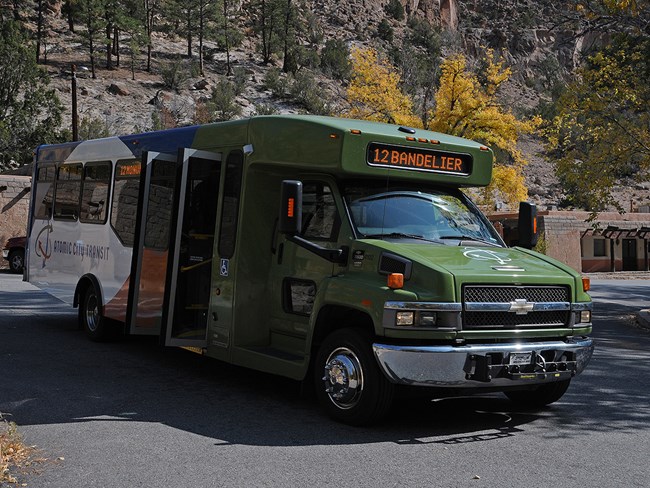 The Park is currently closed due to the Cerro Pelado Fire.



Mandatory Shuttle Buses Will Return this summer on a date yet to be determined.

Starting sometime this summer and through October 19, 2022 access for all visitors to Bandelier National Monument's main visited area that includes the visitor center, Pueblo Loop Trail, Falls Trail, Alcove House, Park Store, restaurant, and other trails will be by shuttle bus only from 9 AM - 3 PM daily. The shuttle bus will carry visitors from the White Rock Visitor Center (see map below) to the Frey Trailhead (across from Juniper Campground, more information lower on page) and then to the park visitor center. Shuttles run every 30 minutes on weekdays and every 20 minutes on weekends. There is no charge for riding the shuttle but all normal

National Park Service entry fees

still apply. Currently face masks are required on public transportation including this shuttle. All visitors are required to check in with a ranger when they arrive in the park.
These are exceptions where visitors are not required to ride the shuttle:
1. Visitors can drive in before 9 AM and after 3 PM
2. Bicycles
3. Anyone with Handicap Placard
4. Anyone seeking an Overnight Backcountry Permit
5. ALL Commercial Groups
6. Educational Groups in a Bus or Van
7. Anyone on Official Park Business
8. Campers going ONLY to Campground (Shuttle Stop into Canyon at Campground)
Why A Shuttle?
During the off season when the shuttle is not running, visitation often exceeds our limited number of parking spaces within walking distance of the things that visitors want to see. When we don't have enough parking visitors have to be turned away and asked to come back later. The shuttle allows us to accomodate more people.
There are a number of
wonderful alternatives
if getting into Frijoles Canyon and the sites there just isn't working out for you.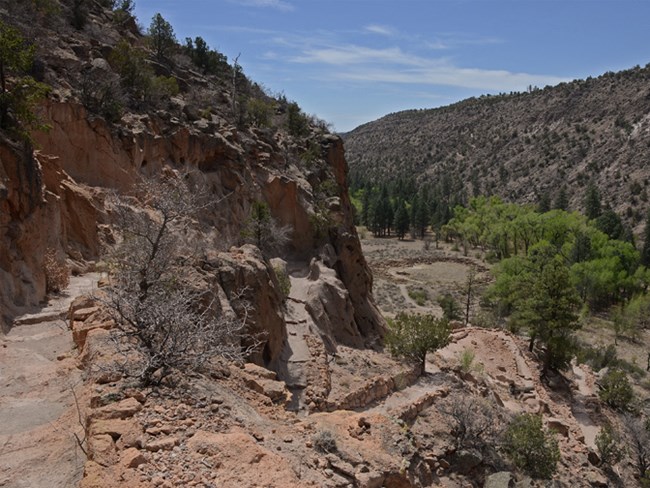 Hiking the Frey Trail From Juniper Campground
If you are staying at Juniper Campground or get dropped off by the shuttle bus at the Frey Trailhead, you can hike down about 550 feet in elevation on steep switchbacks to access both the Pueblo Loop Trail and the park visitor center. It's 2 miles one way. The trail is steep and rocky with minimal shade but the amazing views are worth it for those willing and able to do the hike. The best news is that if you want to hike the Frey Trail down when the shuttle is running you can always ride back up to Juniper Campground.
Tsankawi Section of Bandelier Closed and Construction at Parking Lots
Projects including improvements to the parking area at the Tsankawi Unit and the mesa top parking lot, just past the main entrance, are planned for late this summer. Construction on a new parking lot and entrance to Tsankawi at the intersection of NM Highway 4 and Jemez Road, the 'Truck Route', to Los Alamos is expected to begin in August and continue through winter. This work will coincide with other ongoing roadwork by the State of New Mexico in the same stretch of Highway 4. The improvements will make access to this very popular area of Bandelier safer to enter and exit onto the highway by creating a single point of access to the parking area controlled by a traffic signal. The Tsankawi Unit will be closed while the project is underway as there will be no safe alternative for parking. Visitors should also expect delays when traveling on Highway 4 near Tsankawi. Visitors are advised to take this into account when making plans to travel into the area.
Work on a project to increase the number of parking spaces in the mesa top parking area, just above Frijoles Canyon, will start at the same time. Sections of the amphitheater parking lot across from Juniper Campground, adjacent to the Frey Trailhead will be closed throughout construction. Shuttle bus access, bus parking and access to the Frey Trailhead will be available during construction.
More information can be found here.
Last updated: May 24, 2022