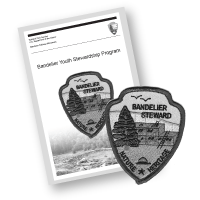 Earn Bandelier's Youth Stewardship Patch through the Youth Stewardship Program
This activity is designed to be done by GROUPS only. Individuals should check out the Junior and Deputy Ranger programs.
For any group of youth: Learn about being a park steward and earn the Bandelier Steward patch by completing a Youth Stewardship booklet along the Main Loop Trail. Each youth who completes the booklet to the satisfaction of his or her leader can get a free Bandelier Steward patch from the Visitor Center Desk.
Download and print the booklet for each member of your group...