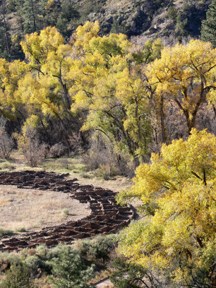 The fire and floods in the summer of 2011 affected the park in many ways. Even so Bandelier is still a wonderful place to visit.

Current Visitor Center Hours 9 AM - 4:30 PM
Last shuttle to leave the park each day is at 4:30 PM
Park Trails open from dawn to dusk

What's Changed?
Access to Frijoles Canyon Via Shuttle Bus Only
Currently (through November 17, 2012) all access to Frijoles Canyon (the main visited area of the park including the visitor center and major archeological sites) will be via a mandatory shuttle bus from the nearby community of White Rock. The shuttle pickup and drop-off is at the newly opened White Rock visitor center right on Hwy 4. Pets are not permitted on the shuttle. Service animals may accompany their owners and the shuttles are fully accessible. After 4 PM private vehicles are allowed to drive into Frijoles Canyon but, remember, all visitors (and their cars) must leave the canyon by sunset.