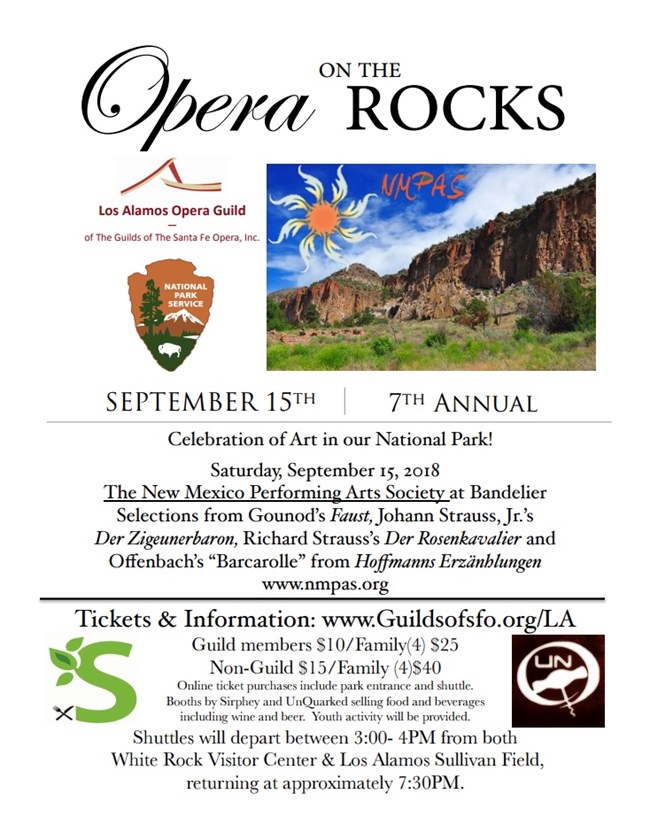 Join this celebration of Art in our National Parks! Starting at 3:00 PM and returning at approximately at 7:30 PM on Saturday, September 15, 2018. The New Mexico Performing Arts Society presents Selections from Gounod's Faust, Johann Strauss, Jr.'s Der Zigeunerbaron, Richard Strauss's Der Rosenkavalier and Offenbach's "Barcarolle" from Hoffmanns Erzänhlungen www.nmpas.org
Brought to you by: The Santa Fe Opera Guild, Bandelier National Monument, and Atomic City Transit.
guild member family (up to 4)

$25
Non guild member family ( up to 4)

$40
IMPORTANT
Parking will be for Handicap placard holders Only. All others must take shuttle.
White Rock Visitor Center or Los Alamos Sullivan Field
Shuttles runs begin at

3:00 PM
with an estimated arrival back to pick up locations

7:30 PM
Activities for youth will be provided as well as food and wine vendors.
Bandelier Campers are free to the event.
Please contact Geoff Goins at 672.3861 x 512 for more information. For ticket information or to buy tickets, please visit the Santa Fe web site at www.guildsofsfo.org/LA.