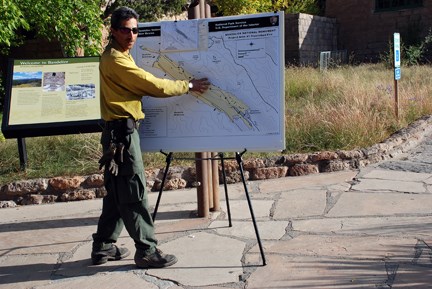 September 27, 2008
Prescribed Burn Completed, Most Trails Reopened
The prescribed burn has been completed. A small portion of the Long Trail is the only trail to remain closed. Visitors are required to stay on the trail in all areas of the burn. Logs are still smoldering in off-trail areas and there is a danger of falling trees.
September 25, 2008
Some Trails to Remain Closed Due to Burn
The visitor center, Main Trail, Falls Trail, and Frijolito Trail reopened to the public today. Due to continued activities related to the burn (and potential hazards including burning snags and falling trees) Alcove House, Long Trail, Cottonwood Picnic Area, parts of the Nature Trail, and the trail from Upper Crossing to Alcove House will remain closed on Friday, September 26.
September 24, 2008
PM Update
The visitor center, Main Loop Trail, Falls Trail, and Frijolito Trail will reopen to the public tomorrow. Following the initial burn plan, Alcove House and the trail above Alcove House to Upper Crossing will remain closed on Thursday, September 25 as burning continues in that area. Due to numerous burning snags and the danger of falling trees, Cottonwood Picnic Area, Long Trail, and portions of the Nature Trail to the west of Frijoles Creek will also remain closed on Thursday. If the burn proceeds as planned, most areas should reopen by Friday.
Prescribed Burn Continues In Frijoles Canyon
Frijoles Canyon is closed to all entry today as a prescribed burn, initiated yesterday, continues. Burn Boss Frank Gonzales stated, "the burn is going well. We expect to meet our objectives." The prescribed burn is expected to eliminate an overabundance of dense undergrowth in the canyon and around the historic buildings and Ancestral Pueblo sites. These sites could be put at risk by a hot burning wildfire without this prescribed burn. The burn is expected to be completed by Friday.