2018: The Year of the Bird
Join Bandelier In Celebrating the "Year of the Bird"
In October 1918, a profoundly important law was passed - the Migratory Bird Treaty Act. It made it unlawful to pursue, hunt, take, capture, kill, or sell birds listed in the Act as migratory birds. It came into being in a time when the survival of many bird species was threatened by the commercial trade in birds and especially bird feathers. Since 2018 is the centennial of the Act, people all over the world are celebrating by declaring it the "Year of the Bird" (YOTB). Major sponsors include National Geographic, Audubon, BirdLife International, and the Cornell Lab of Ornithology.
Bandelier National Monument has signed up as an official participant in YOTB. For starters, park staff encourage everyone to look up the National Geographic website for
Year of the Bird
.
In it, readers are offered the chance to "Count Me In" - to sign up to receive monthly suggestions for "easy actions that can be taken to make a difference for birds and for the planet." Bandelier will be providing monthly activities and special press releases and Facebook posts related to those actions. In addition, park staff have chosen a local bird to focus on each month.
Bandelier's schedule for Year of the Bird includes:
January: Get out information about YOTB. Bird: Raven
February: Great Backyard Bird Count,

February 16-19

Bird: Sandhill Crane
March: Pollinator gardens. Bird: White-throated Swift
April: Your favorite bird-friendly action. Bird: Broad-Tailed Hummingbird
May: Global Bird Day and Birdblitz. Bird: Yellow-Rumped Warbler
June: Recycling. Bird: Western Tanager
July: Getting children out into Nature. Bird: our National Bird, the Bald Eagle
August: Activities related to bird research. Bird: Ash-throated Flycatcher
September: Look for hazards that affect birds, including windows. Bird: Turkey Vulture
October: Global Bird Day and Birdblitz. Bird: Great-Horned Owl
November: Social Media photo contest. Bird: Wild Turkey
December: Christmas Bird Count. Bird: White-Breasted Nuthatch
Those who follow the park
Facebook page
have already seen three posts on the January bird, the raven, and there will be at least one more. Throughout the year, details on activities and birds-of-the-month will be provided on the park's Facebook, Twitter, and news media, as well as the park website, www.nps.gov/band. Bandelier National Monument staff hope that visitors as well as members of the local community will join them in participating in Year of the Bird, help protect our feathered friends, and celebrate the importance and enjoyment of birds in our lives.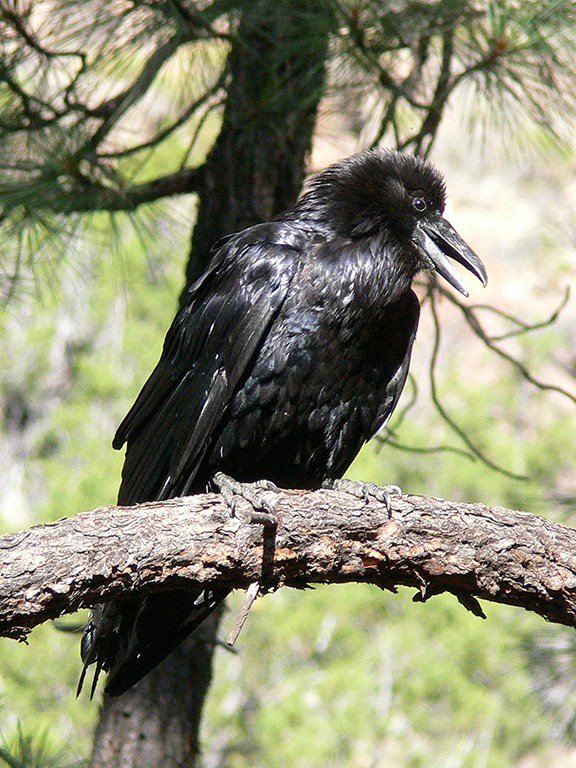 Click here to see How to Tell a Raven From a Crow from the National Audobon Society.



r>
Last updated: January 27, 2018