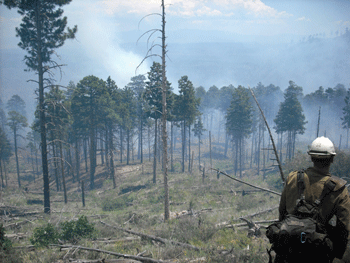 A Cooperative Approach to Fire
The 2009 San Miguel Wildland Fire represents an evolution in federal fire policy. "Managing fire is about more than fighting fire," said Bandelier National Monument Superintendent Jason Lott. "Our goal is to allow lighting-ignited fires to burn naturally within fire-adapted ecosystems when we can do so safely, effectively, and efficiently," said Lott. "Fire and smoke are an inevitable part of living in New Mexico," said Bandelier National Monument Fire Management Officer Gary Kemp. "It's not a matter of if they occur, but when," he continued.

"Every fire is different, and we evaluate the potential risks and benefits of each one," said Lott. Numerous fires started in the Jemez Mountains during the first week of July. Of those new starts, all but two were suppressed. "We decided to manage the San Miguel Wildland Fire for resource benefits based on guidance outlined in our fire management plan, in combination with an analysis of the current situation," Kemp explained.