Completing the Archeological Inventory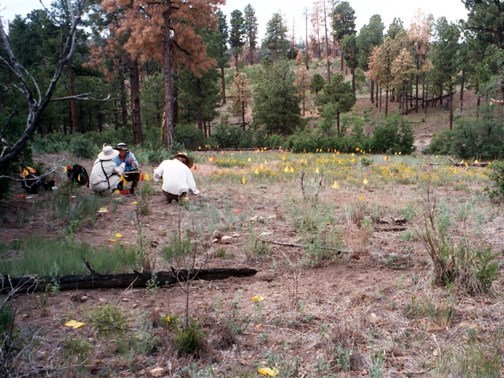 Beginning in 2010, the park will initiate a three year program to complete the archeological inventory of Bandelier National Monument. Currently the park is about 78% inventoried and contains 2,879 archeological sites. We estimate an additional 200 archeological sites will be located and recorded.
An archeological inventory consists of crews systematically walking sections of the park searching for the remains of past occupants. This can include finding a scatter of obsidian or chert flakes which mark areas where stone tools were manufactured or, in some cases, a twenty room village may be found. Past archeological surveys have also recorded small shrines where people once prayed or conducted ceremonies, sites dating to the historic period consisting of subtle scatters of cans and bottles and literally thousands of "field houses." Field houses are the most common archeological site found in Bandelier and typically consist of a small building containing two rooms which provided shelter for Pueblo farmers some seven hundred years ago.
At each archeological site a detailed map will be prepared and all visible surface artifacts will be analyzed. Detailed information on site features such as architecture and site setting will be collected. In addition, information on the condition of the site including erosion issues, animal impacts or hazard fuel loading will also be collected. Finally, photographs will be taken and the site location will be taken with a GPS unit. This information is then entered into the park's data base.
Last updated: February 24, 2015