Climate Friendly Logo Contest for Kids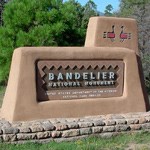 Brad Traver, Superintendent of Bandelier National Monument announced today, "Bandelier is hosting a climate friendly park logo contest for kids up to age 14. The design of the logo should relate to the idea of Bandelier National Monument's staff and visitors working together to make the park as climate friendly as possible and/or why this is important for the future."
"We will be using this logo to identify all climate friendly products and activities in the park," said Lynne Dominy, Bandelier's Chief of Interpretation. "It will be made into magnets and stickers for electric vehicles, hybrid vehicles, recycling bins, etc. It will be made into pins to be worn by staff, volunteers, and visitors that have chosen to participate in the "Do Your Part for Climate Friendly Parks" program on the park website. Basically it will be used to showcase all of our efforts to be a Climate Friendly Park."
"If your children want to participate, we encourage you to follow our guidelines and to submit the artwork as soon as possible. The submission deadline is July 15, 2008," added Dominy. "The winning entry will receive $100 from Western National Park Association and an annual Bandelier Park Pass ($25 value). The child will also have a photo opportunity when the winner is announced which will be press released to the surrounding newspapers and radio stations."
*The design must include the words "Bandelier: A Climate Friendly Park" or the child's own words relating this idea. This logo must be the original work of the child.
*The design must be 5 inches by 5 inches in size.
*Please do not include kivas in your design.
*The child's name must be on the back of the artwork.
*All entries must be received by Tuesday, July 15, 2008. Full-color, high-quality entries on paper (no electronic media) can be dropped off, at the Bandelier entrance station or Visitor Center, the Pajarito Environmental Education Center in Los Alamos or Pandy's Quilts in White Rock, or mailed to: Stella Carroll - Bandelier National Monument, 15 Entrance Road, Los Alamos, NM 87544.
*Parents or guardian must sign a copyright release form for the logo to be used by the park . All entries must include artist name, address, phone number, and the release form. For more information contact Chris Judson 505-672-3861 x 517 or e-mail us.
*Artwork will not be returned unless a self-addressed return envelope is enclosed with appropriate postage.
For more information about this contest or Bandelier National Monument, call the visitor center at (505) 672-3861, ext 517.
Last updated: February 24, 2015