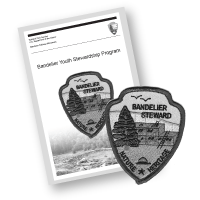 This activity is designed to be done by groups only. If you are an individual or a member of a family group check out the Junior or Deputy Ranger programs.
Earn Bandelier's Youth Stewardship Patch through the Youth Stewardship Program
For any group of youth: Learn about being a park steward and earn the Bandelier Steward patch by completing a Youth Stewardship booklet along the Main Loop Trail. Each youth who completes the booklet to the satisfaction of his or her leader can get a free Bandelier Steward patch from the Visitor Center Desk.
Download and print the booklet for each member of your group...