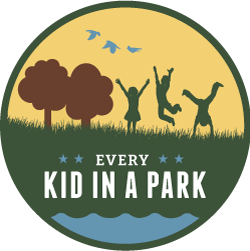 Attention to all 4th graders or homeschoolers 10 years of age!
This is your special year!
As part of the US National Park Service 100th Anniversary celebration, President Barack Obama launched the new Every Kid in a park Program crafted specially for all 4th graders and 10 years of age homeschoolers. These students will have the opportunity to connect with the great outdoors and be inspired to become stewards, ready to preserve and protect their National Parks and other public lands.
If you are a 4th grader or you are part of a homeschool group and have 10 years of age please visit https://everykidinapark.gov/ to complete a very simple activity in order to earn a paper voucher. Once you print this voucher please bring it to the Bandelier Visitor Center, your pass also covers the entrance fee for three other people 16 years of age and older. One of your three guests must be over the age of 18, and if there are any other kids 15 years or under they are free. The voucher will be valid until August 2016.
4thgrade teachers and homeschoolers with children of 10 years old.
Visit the website
https://everykidinapark.gov/
to download and complete the activity. Then go back to
https://everykidinapark.gov/
to register your school, redeem and print the vouchers for each of your students.
Please bring all the printed vouchers the day of your visit in order to exchange the paper vouchers for card passes. A ranger or guide will have all the children write their name on the back of their new card. We suggest after they write (not sign) their name that you collect them all and hand them back once at the school to avoid losing them.