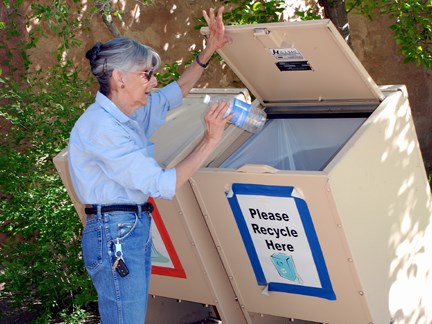 The National Parks, because of their location and unique, protected resources, are places where the effects of climate change are particularly noticeable. With the establishment of the National Park Service in 1916, responsibility was given to the Service to preserve and protect the significant resources within the parks for the enjoyment of future generations. As knowledge about climate change and its effects has accumulated, it has highlighted the need to maintain park resources through practicing not only good stewardship of the flora and fauna within parks' boundaries but also active protection of the natural environment on regional and global scales.
On May 13 – 14, 2008 Bandelier held a workshop to discuss how climate change is affecting Bandelier's important natural and cultural resources, to initiate a plan on how to reduce Bandelier's carbon footprint, and to learn ways to share this important information with the entire staff and the public. Prior to the workshop information was collected on all aspects of the park's energy consumption and waste management. This information was then applied to a computer program called CLIP (Climate Leadership In Parks) that estimates annual greenhouse emissions. Bandelier's total annual greenhouse emissions was 343 MTCE (Metric Tons Carbon Equivalent) or about the same as 190 private homes. A similar amount of greenhouse emission could be eliminated simply by replacing all the incandescent light bulbs in 2000 homes with high efficiency bulbs.
You can help us meet our goals. Go to www.doyourpartparks.org/band and sign up to reduce your greenhouse emissions.