Visiting Bandelier Fall/Winter 2022 and Spring 2023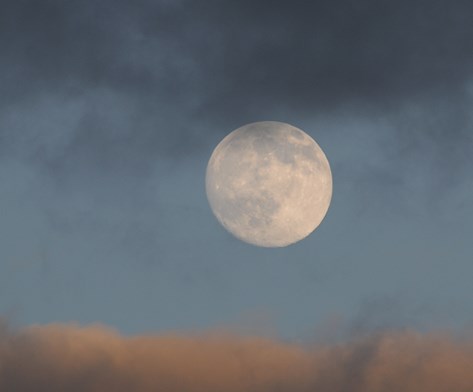 Winter/Spring Visitor Center Hours 9 AM - 5 PM
Visitor Center Closed Christmas Day and New Year's Day and closes early on Thanksgiving Day
Park Trails Open Dawn to Dusk 365 Days/Year
NO SHUTTLE
For part of the year, much of Bandelier is accessible only by a shuttle bus from White Rock. This isn't true in the late fall, winter, and spring. From mid October until mid May visitors can once again access Frijoles Canyon, the park visitor center, and the main archeological sites using their personal vehicle. Visitors can visit Frijoles Canyon from sunrise to sunset. Just be sure to leave before it's dark.

Work will be underway this fall/winter to stabilize Alcove House and to repair bridges. This may affect your visit. Look for alerts that will give you updated information.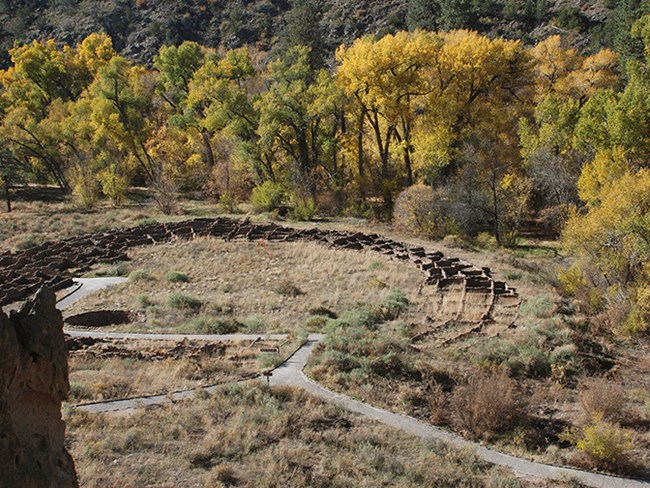 FALL DAYS
October is usually the best time for fall color and the days are warm while the nights are cool to downright cold. The first snow of the season near the visitor center often happens around Halloween with earlier snow in the park's high country. Migrating cranes can be heard flying norh overhead and wandering male tarantulas may be encountered as they search for love.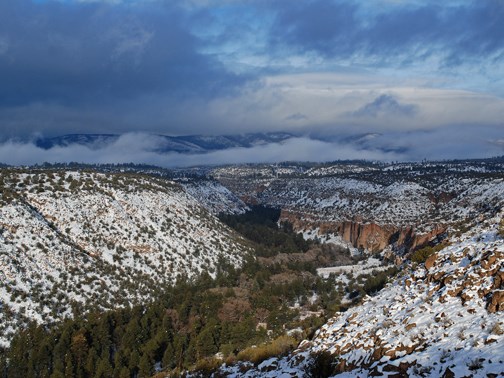 SNOW DAYS
Frijoles Canyon gets an average of 25" of snow per season. The mesas get twice that and the highest elevations in the park can get even more snow. If you arrive in Bandelier just after a snow event the Main Pueblo Loop Trail will be closed to visitors until staff can clear it of snow. Walking on the snow creates ice that continues to be a safety hazard for months. If it has just snowed you may want to sleep in and arrive a bit later to Bandelier. If it snows enough, the park may even be closed. Call (505)672-3861 X 0 before you leave home to make sure the park is open. Hurray for snowy days. They provide more than half the annual precipitation for most areas of the park. This moisutre is neccessary for Bandelier to stay the beautiful and unique place that it is.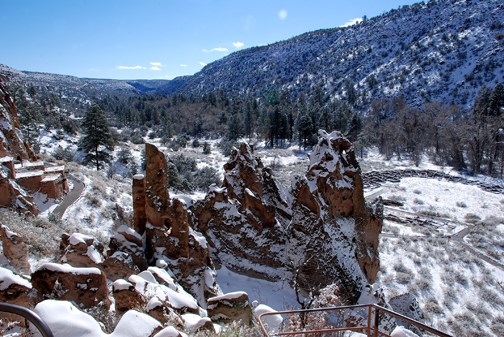 A SPECIAL BEAUTY
Snow can make Bandelier even more special. A dusting, or even a dump, of snow acts to highlight the dwellings. The sun can sparkle like minature diamonds off the ice crystals in the trees. Hairy-earred Abert's squirrels are more active and far more likely to be seen. Be careful walking under trees soon after a snowfall. Snow may dump on you. If you come dressed for the weather conditions you can have an amazing visit to Bandelier in the winter.
More information on some popular trails:
Main Pueblo Loop Trail
Falls Trail
Tsankawi
Download a slide show about the Main Loop Trail and Alcove House (25mb)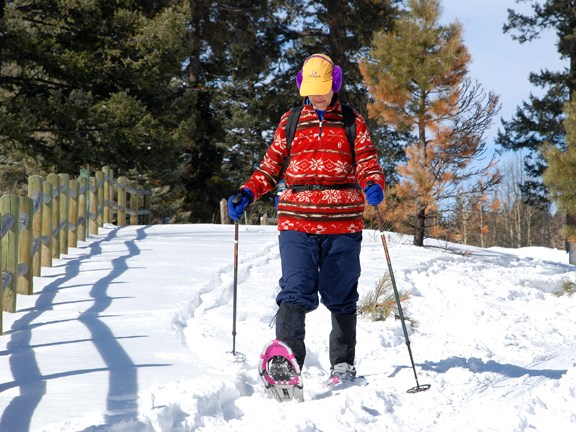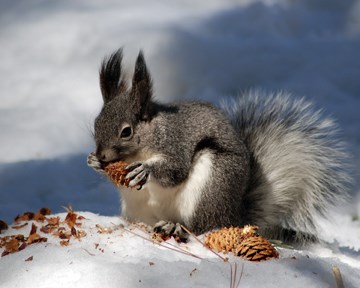 Last updated: October 16, 2022