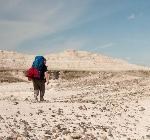 Badlands National Park offers a variety of designated hiking trails that allow you to experience the beauty of the park up close and personal. Hikes range from flat stretches through the prairie landscape to uphill climbs through the Badlands formations. If you are new to the park, consult with rangers at the Ben Reifel Visitor Center. They can provide advice about trails, as well as recommendations for different fitness and experience levels. For those looking to get off the beaten path, find out more about our backcountry camping and hiking policies.
Things to Remember
Always carry water! Two quarts per person per two hour hike is recommended.
A hat and sunglasses are strongly encouraged, as well as rain gear since weatherconditions can change rapidly.
Wear sturdy boots or shoes to protect your feet from cactus spines.
Keep a distance of at least 100 yards from all wildlife encountered during your hike. If wildlife reacts to your presence at all, you are too close.
Remember that all park resources - fossils, plants, animals, artifacts, and rocks - are to remain as you find them. All visitors are entitled to the same sense of discovery you experience when traveling the park trails.
---