Campgrounds
Front Country Camping

Experience Badlands National Park overnight and enjoy its breathtaking sunrises and sunsets, colorful flowers, bountiful wildlife, and rugged scenery from one of two campgrounds available in the park: Cedar Pass Campground and Sage Creek Campground.
Both campgrounds are open year-round, and camping is limited to 14 days. Due to fire danger, campfires are not permitted in either campground and collection of wood is prohibited. However, camp stoves or contained charcoal grills can be used in campgrounds and picnic areas. When using charcoal grills, ensure the charcoal is cool prior to disposal to prevent a trash fire.
Detailed information particular to each campground is located below.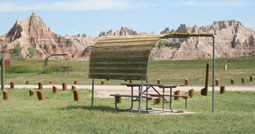 Cedar Pass Campground


Open April 1 - October 31, 2018
Located near the Ben Reifel Visitor Center, the Cedar Pass Campground has 96 level sites with scenic views of the badlands formations. Forever Resorts manages the campground. For additional information, including questions about reservations, contact the Cedar Pass Lodge.
2019 Rates: Camping fees for up to two people are $22 per night per campsite, or $37 per night for campsites with electrical hook-ups. Each additional person is $4 per night. A dump station is available for a $1.00 per use fee. Cold running water, flush toilets, and covered picnic tables are available.
A limited section of the campground is open during the winter months.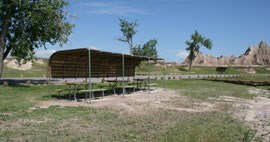 Group Camping
Four campsites are available in the Cedar Pass Campground for organized groups with a designated leader. The nightly fee is $4.00 per person with a minimum fee of $40 per site.
Advance reservations for group camping are required and can be made by contacting the Cedar Pass Lodge online or by phone at 605-433-5460.
Reservations for the busy summer season are accepted beginning the first week in March of each year.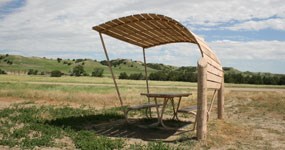 Sage Creek Campground
The popularity of Sage Creek Campground is causing overcrowding. Park staff are working on implementing new management strategies to help reduce the impact on visitors and on park resources.
Bison often wander through this primitive campground, located on the west side of the park's North Unit, near the Badlands Wilderness Area. Access is located off of the Sage Creek Road, an unpaved road that may temporarily close after winter storms and spring rains. Mortor homes, pull behind trailers, and other recreational vehicles greater than 18 feet in length are prohibited. This limitation does not apply to horse trailers. Camping is free of charge. Pit toilets and covered picnic tables are available, but not water. Potable water is available near the Pinnacles Entrance Station. Sites at the Sage Creek Campground are available on a first-come, first-served basis. A portion of the Sage Creek Campground is designated for horse use. Generators and ground fires are not permitted.
Backcountry Camping
Backpackers may camp anywhere in the park that is at least one-half mile from any road or trail and not visible from park roads. Because only the Castle Trail strays far from the main road, most backpackers set out cross country on routes of their own. When doing so, topographic maps are strongly recommended, if not essential. In the North Unit, the 64,250 acre Badlands Wilderness Area is ideal for backpackers. Leave your car at the Sage Creek primitive campground, and follow Sage Creek into the wilderness.
The Stronghold and Palmer Creek Units, in the Pine Ridge Indian Reservation, provide variations on badlands topography. Largely undeveloped, these areas of the park contain rough and isolated landscapes. Unimproved roads provide access deep into the Stronghold Unit.
Last updated: April 23, 2019