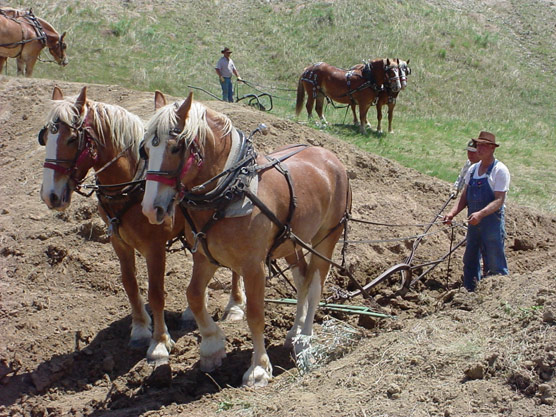 News Release Date:
November 3, 2006
Contact: Julie Johndreau, (605) 433-5242
3BADLANDS NATIONAL PARK, S.D. — Members of the Sunday Drivers Club of the Black Hills will volunteer their time, equipment, and expertise horsemanship to help repair a dam in the Badlands Wilderness Area on November 9, 10, and 11. This historic dam was once part of a homestead. Now, the dam provides a water source for bison and other wildlife in the park. The dam is replenished from surface runoff, so over time sediments fill in the bottom. Also, this dam has a breech in the wall so it can not hold much water in its current state. Fourteen dams throughout the wilderness are maintained to provide water sources for a population of 650 bison and other wildlife.
In order to preserve the wilderness character of the dam site and comply with wilderness regulations, old-fashioned methods will be used to repair the dam. No wheeled vehicles or mechanized equipment will be allowed. The teamsters, led by Ken Barker of Edgemont, SD will use teams of horses to haul a plow and harrow to the dam. The horses will drag the plow across the bottom of the dam to loosen the sediments. Then they will use the harrow to scoop and dump the sediments onto the dam wall breech. Last May, the Sunday Drivers filled the breech about a third full. Hopefully, they will be able to complete the repair work this November if the weather and equipment cooperates. "With the completion of this repair work, the dam should collect water for all wildlife, including the bison, for years to come" said Wilderness Ranger Loyd Griswold.
The public is invited to the park, free-of-charge, on Veteran's Day, November 10 to view the horses and teamsters at work in the prairie wilderness. The dam can be seen with binoculars from the Sage Creek Rim Road. Visitors can hike about a half mile to the dam site to observe the dam repair work up close. The teamsters and Park Rangers will be available to answer questions.
Established on October 20, 1976 under the provisions of the Wilderness Act, the Badlands Wilderness Area consists of 64,144 acres, or over 25% of the total park. The wilderness area of Badlands National Park is the largest prairie wilderness in the United States. There are two units of the Wilderness Area: Sage Creek, accessed from the Sage Creek Rim Road or Sage Creek Campground, and Conata Basin, accessed primarily from the Conata Picnic Area.