The Saber Site and Fossil Prep Lab Open at Badlands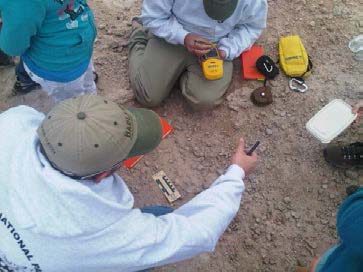 News Release Date:
June 4, 2012
Contact: Julie Johndreau, 605-433-5242
BADLANDS NATIONAL PARK, INTERIOR, S.D. - Today, June 4, 2012 marks the grand opening of the Saber Site and fossil prep lab at Badlands National Park. The fossil quarry, located just outside the Ben Reifel Visitor Center, will be staffed by paleontologists and park rangers through the summer. The fossil prep lab will be in the visitor center classroom. Stop by between 9:00 - 4:30 daily to observe science in action and learn more about the discoveries being made.

The Saber Site contributes greatly to understanding the fossil record at Badlands National Park. On May 30, 2010, seven year old Kylie Ferguson discovered a fossil in this same spot while participating in a Junior Ranger program. She did the right thing - she reported her find, allowing paleontologists to identify the fossil as the skull of an extinct saber tooth cat, Hoplophoneus . While all fossil finds are scientifically important, this one was even more so because of the condition of the skull, and the fact that it contained bite marks. CT scans have been done of the skull in a partnership between Rapid City Regional Hospital, South Dakota School of Mines & Technology and Badlands National Park in a quest to determine the fate of this animal. The public is welcome to observe and interact with paleontologists and park rangers at the site and the lab, and perhaps even be present as more fossils are uncovered.

All resources in the park are protected. Please enjoy the fossils, rocks and plants, and take only pictures.

For more park information see
https://www.nps.gov/badl
 or follow us on
Twitter @BadlandsEdu, and @Badlands_Ranger.
-NPS-
Last updated: April 10, 2015